City Environmental Review Reform (Archived 2022)
A Tale of Two Rezonings: Taking a Harder Look at CEQR
2018–present
As an advancement of some of the issues raised in Accidental Skyline, MAS is proud to present A Tale of Two Rezonings: Taking a Harder Look at CEQR. This study exposes the shortcomings of the existing environmental review process through the lens of two recent rezonings in Long Island City (2001) and Downtown Brooklyn (2004). We selected these neighborhoods because their respective build years have passed, allowing us to study their long-term outcomes.
We arrive at a simple, but consequential conclusion: although the City intended to create two new central business districts, the expected boom in commercial development never materialized. Instead, these neighborhoods were transformed by an explosion of high-end, high-rise residential development, fueled—unintentionally—by the City's zoning changes. Demographically, they are now whiter, wealthier, and more crowded than ever.
The growth has been so rapid and so extensive that Long Island City is now recognized as the fastest growing neighborhood in the country; Downtown Brooklyn ranks as eighth on the list. By some measures, it is indeed the best of times for these two neighborhoods. However, as local residents can attest, there are real and lasting consequences when the development that the City expects diverges so dramatically from the development that actually takes place.
Neighborhood rezonings are subject to the City Environmental Quality Review (CEQR) process, which systematically considers the adverse environmental impacts that could result from a proposed discretionary land use action. CEQR requires the preparation of an Environmental Impact Statement (EIS), which builds a "Reasonable Worst Case Development Scenario" by a prescribed build year. EISs analyze 19 technical categories (including shadows, transportation, and air quality), identify the lots where projected developments will be built, outline a suite of alternative development scenarios, and consider mitigation measures that would minimize adverse impacts.
In A Tale of Two Rezonings: Taking a Harder Look at CEQR, MAS analyzed the accuracy of the Final Environmental Impact Statements (FEIS) for the Long Island City (2001) and Downtown Brooklyn (2004) Rezonings.
The Final Environmental Impact Statement (FEIS) for Long Island City's rezoning projected that the neighborhood would see just 300,000 square feet of residential development across 300 new units. The zoning changes have in fact produced 8.74 million square feet in new residential development, adding more than 10,000 new units to the area.
The FEIS for Downtown Brooklyn's rezoning predicted that the neighborhood would see an addition of 979 residential units by the build year of 2013. In actuality, more than 3,000 new units had been constructed by 2013, with an additional 5,000 built since.
The City's miscalculations were not trivial. The larger issue is the failure of the City to anticipate and plan for the real world results of zoning changes in these two neighborhoods. The mitigation measures that were proposed in the FEIS addressed adverse impacts from a development scenario that never happened, and the environmental impacts that did occur were never evaluated.
The unprecedented residential growth in both rezoning areas has greatly exacerbated overcrowding in area public schools and placed tremendous pressure on the limited open space in both neighborhoods.
Simply put, the City did not plan for the residential growth that the zoning changes brought about, leaving these two neighborhoods without some of the resources—affordable housing, schools, parks, transit, and more—that they need to succeed.
Sign up to stay informed.
Select Findings
Long Island City:
Since 2000, the median household income has risen 230 percent, from $53,000 to $123,000.
The FEIS estimated that an additional 99 school seats would be needed by 2010; by 2010, the zoning changes had brought 240 new students to the neighborhood, and just eight years later, more than 3,200 students have been added. Seven out of nine local elementary schools are now overcrowded, with one operating at more than 200 percent capacity.
Average ridership at the neighborhood's three main subway stations (Court Square, Queensboro Plaza, and Queens Plaza) has increased at seven-times the city-wide rate over the last six years.
Downtown Brooklyn:
Since 2000, the median household income has risen nearly 250 percent, from $50,000 to $124,000.
The FEIS estimated that an additional 446 school seats would be needed by 2013; by 2013, the zoning changes had brought 1,560 new students to the neighborhood, and just five years later, nearly 4,400 students have been added. Seven out of thirteen local elementary schools are now overcrowded.
RECOMMENDATIONs
Large-scale neighborhood rezonings have the power to permanently change the shape of communities. The CEQR process can and should do more than disclose limited (and sometimes illusory) outcomes from these actions. The following recommendations would deliver a more accurate, predictable, and accessible environmental review process, one that decision makers need and New Yorkers deserve.
Strengthen RWCDS and Soft Site Analysis Methodology
Seventy-six percent of all lots that were redeveloped or slated for future development in the Downtown Brooklyn Rezoning Area were 5,000 sf or smaller. Many of these lots were included in zoning lot mergers that led to the construction of buildings that were larger than what was evaluated.
Update the CEQR Technical Manual criteria for establishing an analysis framework to:
Use a long-term build year that includes all development sites under a rezoning, rather than only those likely to be developed in a shorter period of time.
Include lots smaller than 5,000 sf as well as those containing rent-stabilized units in soft site evaluations.
Require explanatory details for lots identified as soft sites, and include the criteria used to determine their status.
Increase Range and Scope of Alternatives
The alternatives evaluated in the Long Island City and Downtown Brooklyn rezoning FEISs were limited to scenarios that focused only on commercial development and relatively minor variations of the proposed rezonings.
Update CEQR regulations to include the following alternatives for large-scale rezonings:
Development Right Transfer Alternatives: identify additional development that could reasonably be expected through the transfer of available development rights and zoning lot mergers.
Optimal Sustainable Development Scenario: evaluate a development scenario that applies sustainable practices for construction and operation that reduce water and energy use, greenhouse gas emissions, urban heat-island effect, shadows, and other key sustainability metrics.
Community-Based Plan Alternative: evaluate a development scenario that conforms with any existing community-based plan, 197a or otherwise.
Reversed Proposed Land Use Alternative: analyze a development scenario showing different primary land uses that would also be permitted by the new zoning (e.g., a development scenario that fosters residential growth rather than commercial).
Require Generic EISs for Area-wide Rezonings
Within seven years of the approval of the Long Island City Rezoning, the Hunters Point (2004) and Dutch Kills (2008) subdistricts of the Special Long Island Mixed-Use District were themselves rezoned. The two actions affected development on over 80 blocks and were not evaluated together.
Revise the CEQR Technical Manual methodology to:
Establish specific development or area thresholds for determining when Generic Environmental Impacts Statements (GEIS) should be used.
GEISs should be used for larger-scale neighborhood rezonings and other broad-based actions because they are more effective at identifying cumulative impacts. GEISs also foster the consideration of mitigation and alternatives early in the planning process, when there is more room for flexibility. GEISs allow the consideration of hypothetical development scenarios that could occur (i.e., residential development instead of commercial development in a district that allows both uses).
Improve Accuracy in Project Purpose and Need
The stated Purpose and Need for the Long Island City and Downtown Brooklyn rezonings was to retain businesses that were moving elsewhere by creating new central business districts through large-scale expansions of commercial office space. However, both rezoning areas saw unparalleled residential growth and little commercial  development.
Amend the Rules of the City of New York (Chapter 5) to require:
A clear and accurate explanation of how proposed actions balance project goals with environmental concerns.
Stated objectives that specifically correspond to how City-sponsored projects would meet public needs and respond to applicable policies.
Statements and claims to be made in the EIS Purpose and Need section to accurately reflect the intent of a project by requiring quantitative evaluations which demonstrate how goals will be achieved (e.g., if the project proposes to add new affordable housing units, the EIS must evaluate the impacts of various income levels under the Mandatory Inclusionary Housing program).
Reinforce Mitigation Measures and Procedures
Currently, the unmitigated impacts that result from rezonings are not considered when new actions are proposed in neighboring areas. This is especially problematic in Long Island City where countless impacts have yet to be addressed, and two new projects are under review: the Long Island City Innovation Center and the Anable Basin Rezoning.
Amend the Rules of the City of New York (Chapter 5) to require:
Draft EISs to include details of specific mitigation measures approved by the City agency responsible for implementing them. Doing so would give the public the opportunity to review and comment before an FEIS is issued.
Post Approval Impact Analysis to be prepared by an independent body of practitioners acting in coordination with MOEC with expertise in various CEQR-related evaluations (e.g., environmental planners, traffic engineers, architects, sustainable design experts). Further, the Post Approval Impact Analysis must be available through MOEC's CEQR Access Portal.
Phased follow-up technical memoranda by Lead agencies at designated times during project construction and operation to evaluate the efficacy of identified mitigation measures.
Fulfillment of mitigation commitments for projected and potential development as a condition for granting certificates of occupancy, if they are to be performed by the time of occupancy.
Consideration of unmitigated or unfulfilled mitigation measures from previous rezonings within a project's quarter-mile study area.
Track Mitigation Measures
The public has no way of tracking whether mitigation measures have been implemented. In Downtown Brooklyn, Willoughby Square Park and the below-grade garage were never built so related open space and parking impacts were never mitigated.
Amend Local Law 175 to require:
Written commitments for mitigation measures identified in EISs, with the type and location of the specific measures (e.g., traffic signal changes at particular intersections), a schedule detailing when the measures would be implemented, and the specific procedures by which the mitigation would be monitored, and if applicable, tested for effectiveness.
Improve Transparency and Accountability in the CEQR Process
 The findings and conclusions in the FEISs for the Long Island City or Downtown Brooklyn rezonings were never reexamined after they were approved, even when development trends clearly favored residential over commercial development.
Through active coordination with DCP, CPC, and MOEC:
Require post-implementation review as part of the City's contract with the preparer of an EIS. Ideally such reviews would be conducted every few years.
Require a commitment to perform post-implementation review as a condition of EIS acceptance, when an EIS is prepared by a consulting firm retained by a private applicant.
Upgrade the CEQR Access website to include all CEQR EISs and Environmental Assessment Statements in the search function. The database should be integrated with the New York State Department of Environmental Conservation and include applicable SEQRA environmental review documents linked to a GIS mapping feature that shows the locations of all CEQR/SEQRA actions within the city. The CEQR Access database should also include all CEQR findings statements, with the mitigation commitments readily identifiable, and integrated into the GIS feature. This will make it much easier to track implementation of mitigation commitments.
Improve EIS Quality
Including appendices, the Long Island City and the Downtown Brooklyn FEISs are each over 800 pages long. As such, these documents are unwieldy and inaccessible to most readers.
Through active coordination with MOEC, DCP, Borough Presidents' Offices, and Community Boards:
Improve the standards for form, content, and consistency to make EISs more readable.
Create a short form to supplement an EIS which highlights the primary findings and conclusions in plain language.
Note: Since the publication of this report, Amazon has announced plans to locate part of its second headquarters in Long Island City on and around the Anable Basin and TF Cornerstone sites.
Featured Report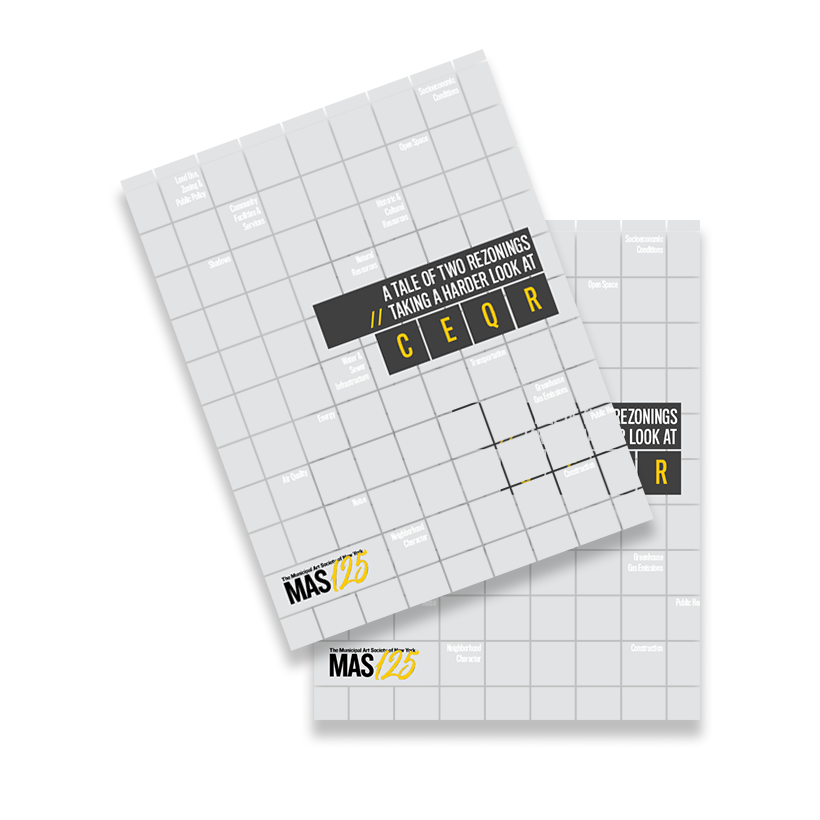 Presents why the City's environmental review process is broken, why that matters, and how the City can do better in the future.
Read report
Advocate with us online
Follow MAS:
Get updates about our work!
Become a Supporter
MAS members and partners are crucial to everything we do. Please consider contributing to MAS and joining our community of advocates.
Support Us
Contact Us
Contact a staff member to learn more or join the campaign. planning@mas.org >
Members of the media looking to discuss this project further, contact us at mbaron@mas.org >