Canceled: 2020 Jacqueline Kennedy Onassis Medal Gala
Honoring Lisa & Dick Cashin and Alexandra & Philip Howard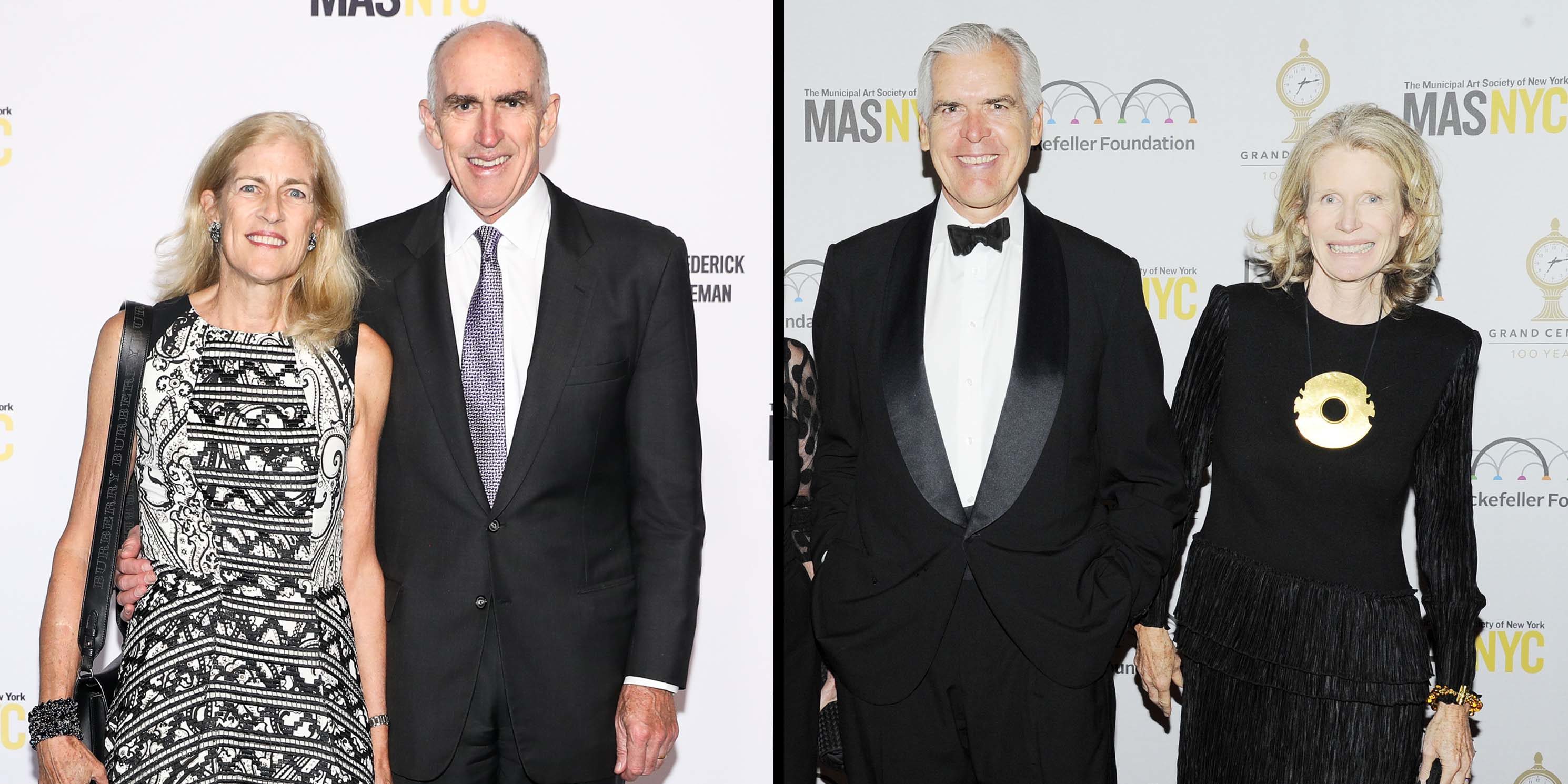 About the Honorees
Our 2020 honorees' contributions are rooted in their devotion to this unique metropolis we call home. Their combined professional, philanthropic, and personal endeavors have served to enrich and empower communities across the five boroughs, while celebrating the boundless character and diversity of our city. Lisa & Dick Cashin and Alexandra & Philip Howard share many things: a heartfelt dedication to community engagement; a love of music, dance, and fine arts; the ambition to tackle seemingly intractable problems; and a willingness to push boundaries. And of course Lisa and Philip share years of leadership at the Municipal Art Society, supporting our work and inspiring our efforts.
LISA & DICK CASHIN
Lisa, a native New Yorker, and Dick, having spent his entire professional life in New York, are diehard fans of the city and its economic diversity. They met as undergraduate classmates at Harvard and lived in Hong Kong for several years after graduation.
From Lisa's college thesis on gentrification in Boston's South End to her Masters in City Planning from UC Berkeley, followed by three decades at the Local Initiatives Support Corporation (LISC), Lisa has focused on the development of under-resourced urban neighborhoods. She is currently the vice-chair of the national board of LISC and president of the board of Prep for Prep. She has been a trustee of American Ballet Theatre for more than twenty years and has served on the Municipal Art Society of New York's Board of Directors since 2008. Previously, she was active on the boards of the Brearley School, the International Tennis Hall of Fame, and Deerfield Academy.
After earning his MBA at Harvard Business School, Dick spent twenty years with Citigroup Venture Capital before founding One Equity partners, initially as JP Morgan's private equity business before becoming an independent firm in 2015. Dick is a trustee of the American University in Cairo, the Boys Club of New York, the Brooklyn Museum, the Central Park Conservancy, Jazz at Lincoln Center, the National Rowing Foundation, and the Newport Festivals Foundation. He was a member of the 1976 and 1980 U.S. Olympic Rowing Teams and was a world champion in 1974. He is currently leading a $25 million effort to build a Norman Foster-designed boat house for Row New York, a highly successful program that trains more than 1,000 college-bound students each year.
ALEXANDRA & PHILIP HOWARD
Alexandra and Philip met in New York City in the early 1970s when Alexandra was producing neighborhood news programs in Inwood and Philip was writing the Bicyclist's Guide to NYC in a collaboration with the Municipal Art Society. More than four decades later, Alexandra and Philip are as involved as ever with their favorite city.
Descended from a long line of New York civic leaders, Alexandra has a rare familiarity and intimacy with the city and its art and architecture. After completing her architectural history studies at the University of Virginia, Alexandra returned to New York and began working on an architectural survey of Upper Fifth Avenue for a National Register nomination. Alexandra now sits on the board of Friends of the Upper East Side Historic Districts, which was instrumental in the creation of the large historic districts that now protect much of the neighborhood. In 2017, she organized family members to acquire a 75-foot mural painted by her grandfather, Howard Gardiner Cushing, then installed in the studio of Gertrude Vanderbilt Whitney in Old Westbury. The mural has now been restored and will be offered for public viewing for the first time as a major exhibition in 2022.
After earning his law degree from the University of Virginia, Philip dove headlong into New York civic life, serving as Zoning Chair of Manhattan Community Board 6. In 1983, he founded Howard, Darby & Levin, which later merged with the Washington firm Covington & Burling, where Philip was Vice-Chair. He served on the MAS board for nearly thirty years, including a decade as Chair. From Stand Against the Shadows to saving the lights of Times Square to the Tribute in Light, he was integral to some of the most significant victories in MAS history, working in partnership with longtime President Kent Barwick. His bestselling 1995 book The Death of Common Sense propelled his civic activities onto a national stage. Over the last 25 years, he has advised three presidents and numerous governors on simplifying government. His TED talk has been viewed more than 700,000 times, and he leads reforms through his books, essays, and forums organized by the nonpartisan group Common Good.
Honorary Chairs
Caroline Kennedy & Edwin Schlossberg
Chairs
Blair & Cheryl Cohen Effron
Tony & Amie James
Tom & Kitty Patterson Kempner
Garrett & Mary Moran
Janet C. Ross
Jennifer & Kent Swig
Vice Chairs
Susanne & Douglas Durst
Amy Falls & Hartley Rogers
Katharine Rayner
Steve & Kitty Sherrill
Scott F. Smith
Corporate Sponsor