Book Launch + Conversation: Rebecca Bratspies | Naming Gotham
In Partnership with Housing Works Bookstore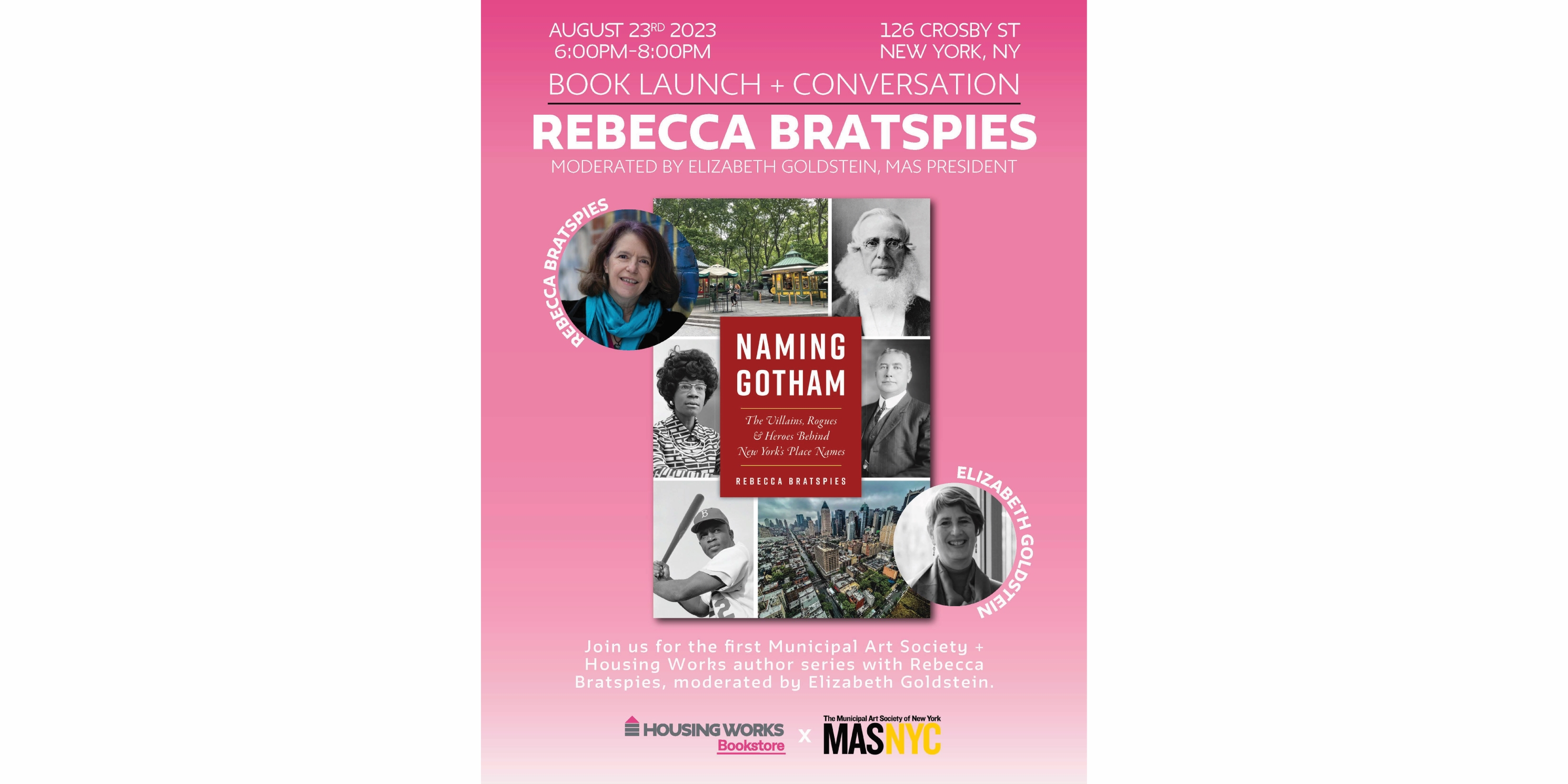 Meet the Speakers
Rebecca Bratspies, Writer
Rebecca Bratspies is a longtime resident of Astoria, Queens. She is a professor at CUNY School of Law. A scholar of environmental justice and human rights, Rebecca has written scores of law review articles; four other books, including Environmental Justice: Law Policy and Regulation; and three environmental justice comic books: Mayah's Lot, Bina's Plant and Troop's Run (with Charlie LaGreca-Velasco). She serves on NYC's Environmental Justice Advisory Board and EPA's Children's Health Protection Advisory Committee, is a scholar with the Center for Progressive Reform and is a member of the NYC Bar Environmental Committee. ABA-SEER honored her work with its Commitment to Diversity and Justice Award.
Elizabeth Goldstein, President, MAS
Elizabeth joined MAS as its President in February 2017. She has an extensive background in parks and historic preservation advocacy and management. Throughout her career, Elizabeth has worked to insure transparent public engagement in civic decisions of consequence to public space and the heritage of key places across the United States. Prior to returning to her NYC roots, Elizabeth was most recently the President of the California State Parks Foundation from 2004 to 2016. Prior to that she was the General Manager of the San Francisco Recreation and Parks Department (1999 to 2004), and the Western Director of the National Trust for Historic Preservation (1994-1999). Her work in parks includes the New York City Regional Director of the New York State Office of Parks, Recreation and Historic Preservation (1989-1994), the Director of Planning for the New York City Park Department (1986-1989) and the Chief of Staff of the Manhattan Borough Office of NYC Parks. Elizabeth graduated from Beloit College. Elizabeth is a past co-chair of the City Parks Alliance and board member of numerous non-profit boards.
Not yet an MAS Member?
MAS is your voice for the future of New York—your membership support will strengthen MAS's ability to protect legacy spaces, encourage thoughtful planning and urban design, and foster inclusive neighborhoods across the five boroughs. Do you know that MAS offers more than 500 historic, art, and architectural tours annually?
Join MAS today and take advantage of member discounts and priority registration now!
Questions?
We're here to help! Contact us at events@mas.org.