MAS Urbanists Present: Justin Davidson in Conversation
The Past and Post-COVID Future of New York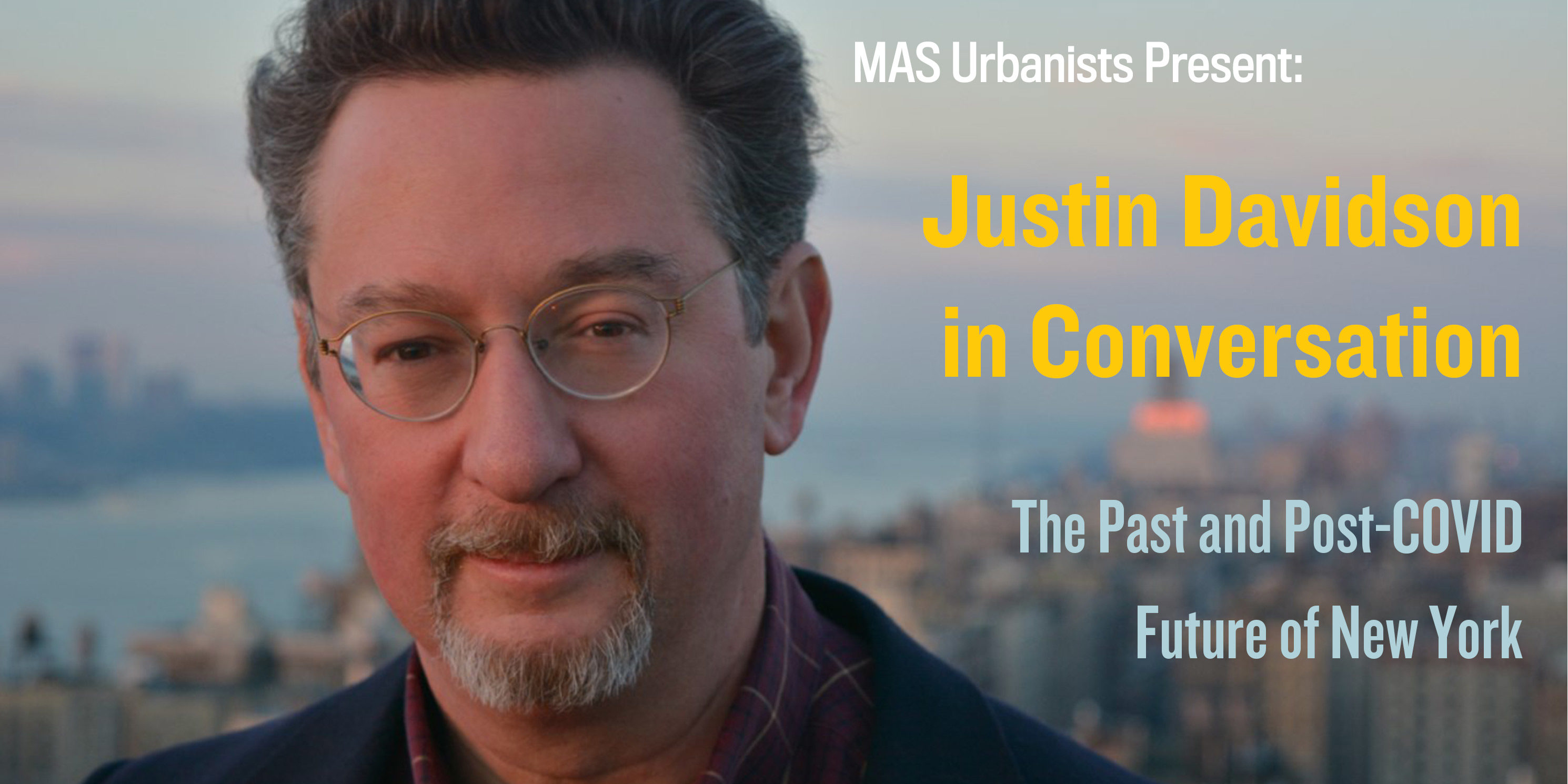 Featured Speakers:
Justin Davidson
Architecture and Classical Music Critic, New York magazine
Justin Davidson has been New York magazine's classical music and architecture critic since 2007. His book Magnetic City: A Walking Companion to New York, was published by Spiegel & Grau in April 2017. He was Newsday's classical music critic from 1996-2007. In 2002, he won a Pulitzer Prize for criticism for his classical music coverage, and that year added the architecture beat to his portfolio at Newsday. He was again a finalist for a Pulitzer Prize for criticism in 2020.
President, The Municipal Art Society of New York (MAS)
Elizabeth Goldstein joined MAS as its President in 2017, with an extensive background in parks and historic preservation advocacy and management. Throughout her career, she has worked to insure transparent public engagement in civic decisions of consequence to public space and the heritage of key places nationwide and has worked in both governmental agencies and the non-profit sector.
Policy & Advocacy, International WELL Building Institute; Co-Chair, MAS Urbanist Leadership Council
Dominic is a Senior Policy Advisor to the International WELL Building Institute – a public-benefit corporation whose mission is to enhance human health through building, workplace, and community design. Using the WELL Building platform, he has been advancing relationships with real estate industry leaders, non-profits, NGOs, and government agencies worldwide. Dominic is focused on supporting IWBI's COVID-19 taskforce and expanding healthy building practices to low-income communities globally.
Brand and Communications Strategist, Futerra; MAS Urbanist Leadership Council Member
Noam is a brand and communications strategist at Futerra, an environmental sustainability consultancy in New York. He is passionate about giving purpose driven organizations the tools and power to create a more sustainable and just world. Noam grew up in Minneapolis and became interested in architecture during the fight to save the original Guthrie Theatre, designed by Ralph Rapson. Since then, he's been passionate about how places and spaces shape how we live and work.