Check out this year's Jane's Walk NYC Tee
Congratulations to Germán Kropman
March 6, 2020
This year, for the first, we held an open call for designing the Jane's Walk t-shirt. We were looking for creative designs that reflect the exploratory, fun, and community-driven spirit of Jane's Walk. After careful consideration of all the incredible submissions, we are excited to announce our winner, Germán Kropman! This typographic map reflects the citywide spirit of the Jane's Walk NYC festival. Germán was inspired to enter the t-shirt design contest by his sister Andrea, who has been a longtime Jane's Walk leader.
Germán's t-shirt design will be worn by hundreds of Jane's Walk leaders' t-shirts during the festival. He will also receive a ticket to our annual Jacqueline Kennedy Onassis Medal Gala, a one-year MAS city-level membership, and a one-year membership to MoMA.
Sign up to become a Jane's Walk leader and get your very own t-shirt!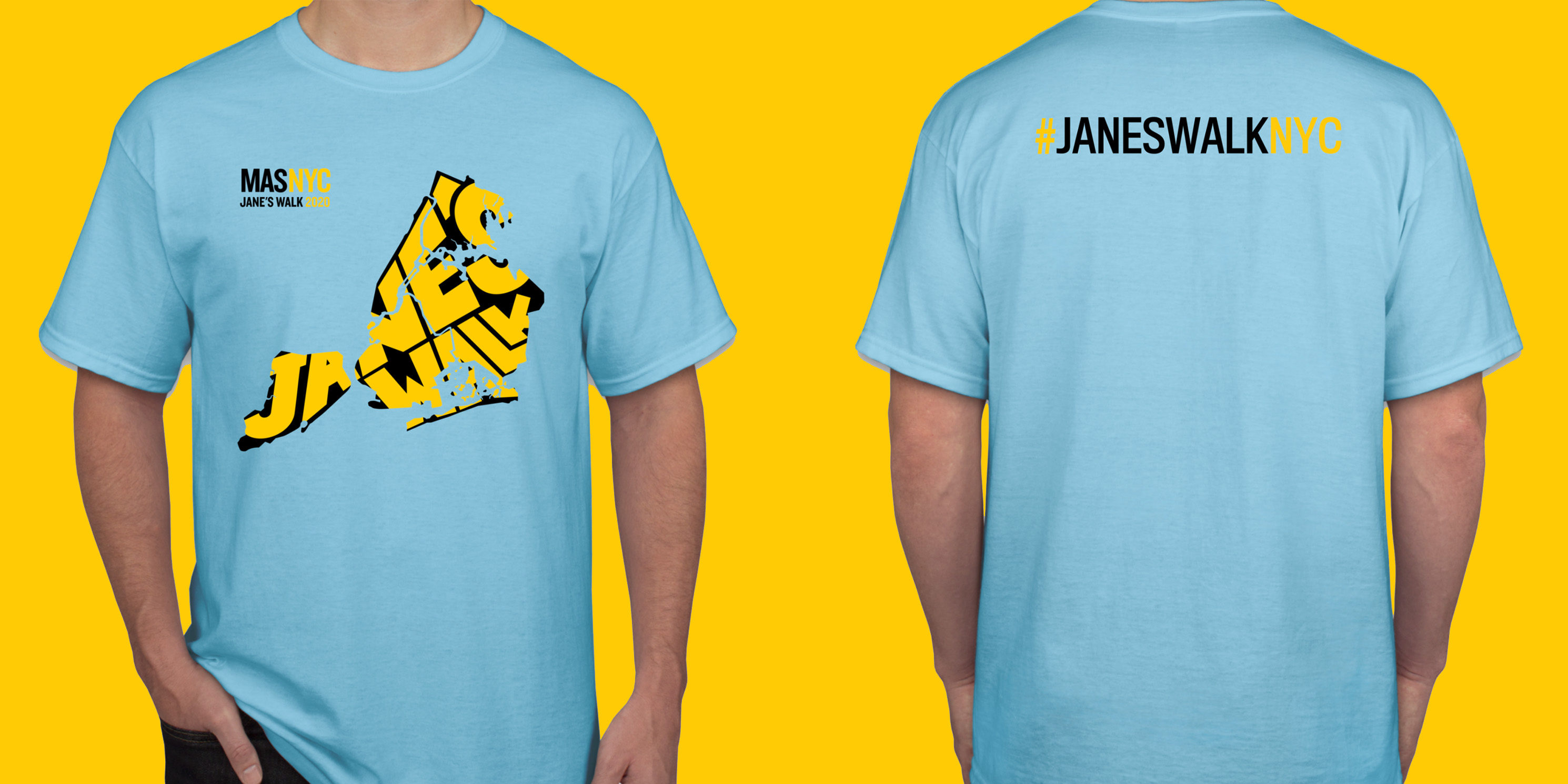 ABOUT JANE'S WALK
Jane's Walk is a global festival of free, volunteer-led walking conversations inspired by urban activist, Jane Jacobs. During the Jane's Walk festival, the simple act of exploring the city is enhanced with personal observations, local history, and civic engagement. MAS is proud to be the local organizer of Jane's Walk NYC. What started with a handful of walks in 2011 has since grown into a three-day celebration featuring hundreds of walks across the five boroughs.
ABOUT THE MUNICIPAL ART SOCIETY OF NEW YORK
For more than 125 years, The Municipal Art Society of New York (MAS) has worked to educate and inspire New Yorkers to engage in the betterment of our city. As a non-profit advocacy organization, MAS mobilizes diverse allies to focus on issues that affect our city from sidewalk to skyline. Through three core campaign areas, MAS protects New York's legacy spaces, encourages thoughtful planning and urban design, and fosters complete neighborhoods across the five boroughs.
QUESTIONS?
Contact janeswalknyc@mas.org or call (212) 935-3960
Sign up to stay informed.