Monument of the Month: Die Lorelei
Celebrating 30 years of public art
February 23, 2017
Thirty years ago, The Municipal Art Society of New York (MAS) launched the Adopt-A-Monument program in collaboration with the NYC Public Design Commission and the NYC Parks Department, to secure private funding for the rescue of public art in danger of deterioration. This program, and the subsequent Adopt-A-Mural Program (begun in 1991), preserve the extraordinary legacy of public art that MAS helped initiate at the turn of the 20th century.
To date, MAS's Adopt programs have raised nearly $4 million dollars to conserve fifty-one works of art in all five boroughs.
In addition, MAS recognizes the challenge of providing the less celebrated but crucial ongoing maintenance of the "Adopt" works. Through endowed maintenance funds, the MAS monitors the condition of each sculpture, and oversees the annual treatments performed. Such long term care has made this program both unique and successful.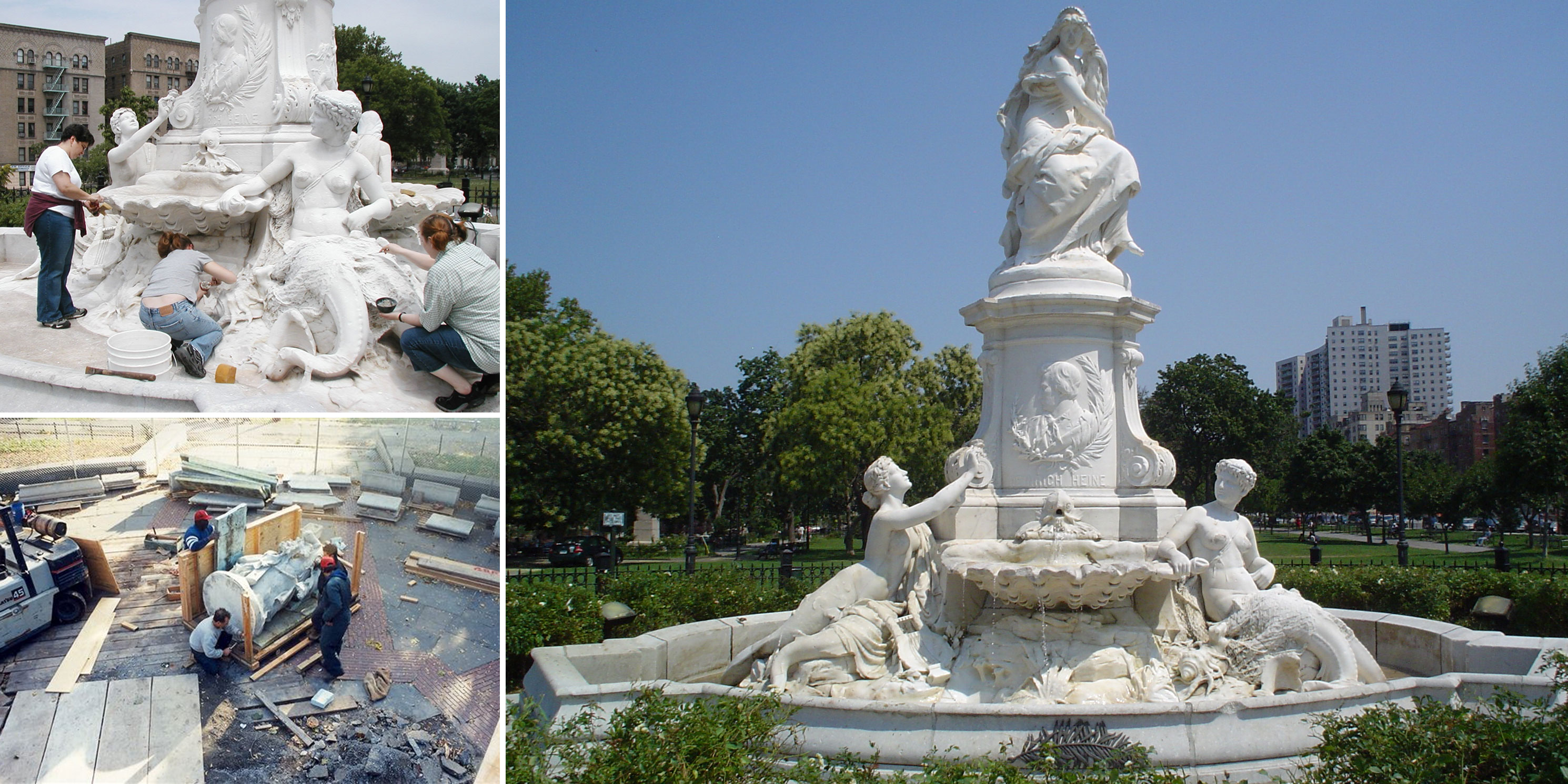 Last summer and fall, twenty-four monuments received maintenance treatments. While some bronze pieces require relatively straightforward handling, others, like the once ravaged marble Heinrich Heine Fountain ("Die Lorelei") by Ernest Herter, 1899, Joyce Kilmer Park in the Bronx, are more complicated. Restored through the magnanimous gift of the Anna-Maria and Stephen Kellen Foundation in 1999, the protection of this grand multi-figured is made possible by the Kellen Foundation's generous maintenance grant.
In October, the conservation maintenance of the fountain included cleaning the fragile 125 year-old marble artwork and filling cracks and joints that are continually victim to the environment. Water that sits in the fountain base over the summer produces heavy biological growth requiring extensive but gentle chemical cleaning each fall. The treatment includes a pre-wash of Triton – x100 in concentration with a specific amount of water. The formula is applied and scrubbed off with soft natural brushes and rinsed with clean water. The pre-wash removed some of the guano and biological growth that was especially heavy this year due to lack of rain. A biological solution, D2, was applied, allowed to sit, reapplied and then scrubbed off with soft brushes and rinsed. A second application of D2 was implemented the next day. Select joints were cleaned of failing sealant and mortar and repointed.
The work was executed by Cultural Heritage Conservation.
In December, the Bronx horticultural crew and the Bronx Parks commissioner, Larry Scoones, in appreciation of MAS' long care of the Heine fountain, continued a tradition started ten years ago of providing winter shrubbery from their greenhouse. The evergreens not only add majesty to the fountain but provide protection against freezing conditions and possible damage. Both the elegance of this great Baroque fountain and the magic of the plantings make it a centerpiece of beauty for the South Bronx community.
Sign up to stay informed.