The Sky Lines of New York
An Exhibition by Jeff Chien-Hsing Liao
June 23, 2021 - September 6, 2021
The Municipal Art Society of New York (MAS) announced the latest exhibition in the Doris C. and Alan J. Freedman Gallery: a collection of photographs capturing the endless skylines of the five boroughs, from supertalls and suspension bridges, to tree canopies and marshland grasses, to rowhouses and low-rise retail.
Artist's Statement
I used to work with a traditional large-format 8×10 camera, and over the years I have slowly transitioned into working with a high-end digital medium format camera. The shift in equipment has allowed me to capture more images, which widens the possibility of my selection that is later processed into a final composition. Rather than taking and using one single image, I would take several hundred photographs over a period of hours. Then I would process all the raw files and, using digital editing software, created a single image for each of the sites.
These images used different moments from the frames but created a seamless photograph. Each image then represents the full range of activities taking place during a typical day at the site, and all the images together show the life, vitality, and variety that occurred in that day. And though the method gives me artistic and editorial control similar to that of a painter in front of a canvas, the results yielded are far more surprising than what can be predetermined.
The large, billboard-sized prints reveal the scope and intricacy of each neighborhood, and a full portrait of the people living and working there, in ways that are at once macro- and microscopic and cannot be achieved by any other photographic means.
About the Artist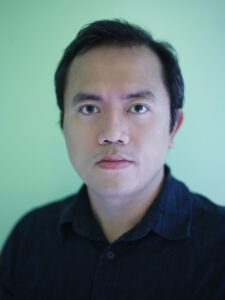 Jeff Chien-Hsing Liao was born in Taiwan in 1977, and immigrated to the U.S. in 1999 at the age of 22. There, he immediately took residence in Queens, New York, in close proximity to the 7 subway line, dubbed by the New York City Department of City Planning as the "International Express." He earned an MFA from School of Visual Arts and a BFA from Pratt Institute. Liao's renowned Habitat 7 series, for which he received critical acclaim, stemmed from his master's thesis at SVA. Taken over the course of two years, Liao depicted the ethnic diversity of the communities along the 7 train subway line on its seven-mile route from Manhattan to Flushing.
For more than a decade Liao has researched and documented the social landscape and complex chemistry of New York City.  Over the years he has transitioned from large format film to digital photography, perfecting his method of stitching together several exposures to create one continuous panoramic image that vividly reflected the photographer's observations that day.
His first monograph, Habitat 7, essay by Anne W. Tucker, was published in 2008 by Nazraeli Press, which also published his second monograph, Coney Island, in 2013.  2014 October,  Aperture Foundation published his third monograph, Jeff Chien-Hsing Liao: New York, encompassing his work in New York for the past 10 years.
All photographs © Jeff Chien-Hsing Liao. For more information, visit http://www.jeffchienhsingliao.com/about and follow the artist on instagram at @mustbejeff