Jacqueline Kennedy Onassis Medal
In 1975, Jacqueline Kennedy Onassis brought to the Municipal Art Society her commitment to the splendors of New York City—and sparked an unforgettable collaboration for which every preservation-minded New Yorker has been grateful ever since.
The Jacqueline Kennedy Onassis (JKO) Medal is awarded annually to individuals who, through vision, leadership, and philanthropy, have made an extraordinary contribution to New York City. The award was established in 1994 to honor Mrs. Kennedy Onassis and her passionate efforts to preserve great architecture in New York City.
November 9, 2022
2022 Jacqueline Kennedy Onassis Medal Celebration
On November 9, 2022, we presented the Jacqueline Kennedy Onassis Medal, the Municipal Art Society's highest honor, to four extraordinary New Yorkers: Jon Batiste, Clara Wu Tsai & Joe Tsai, and Earl D. Weiner.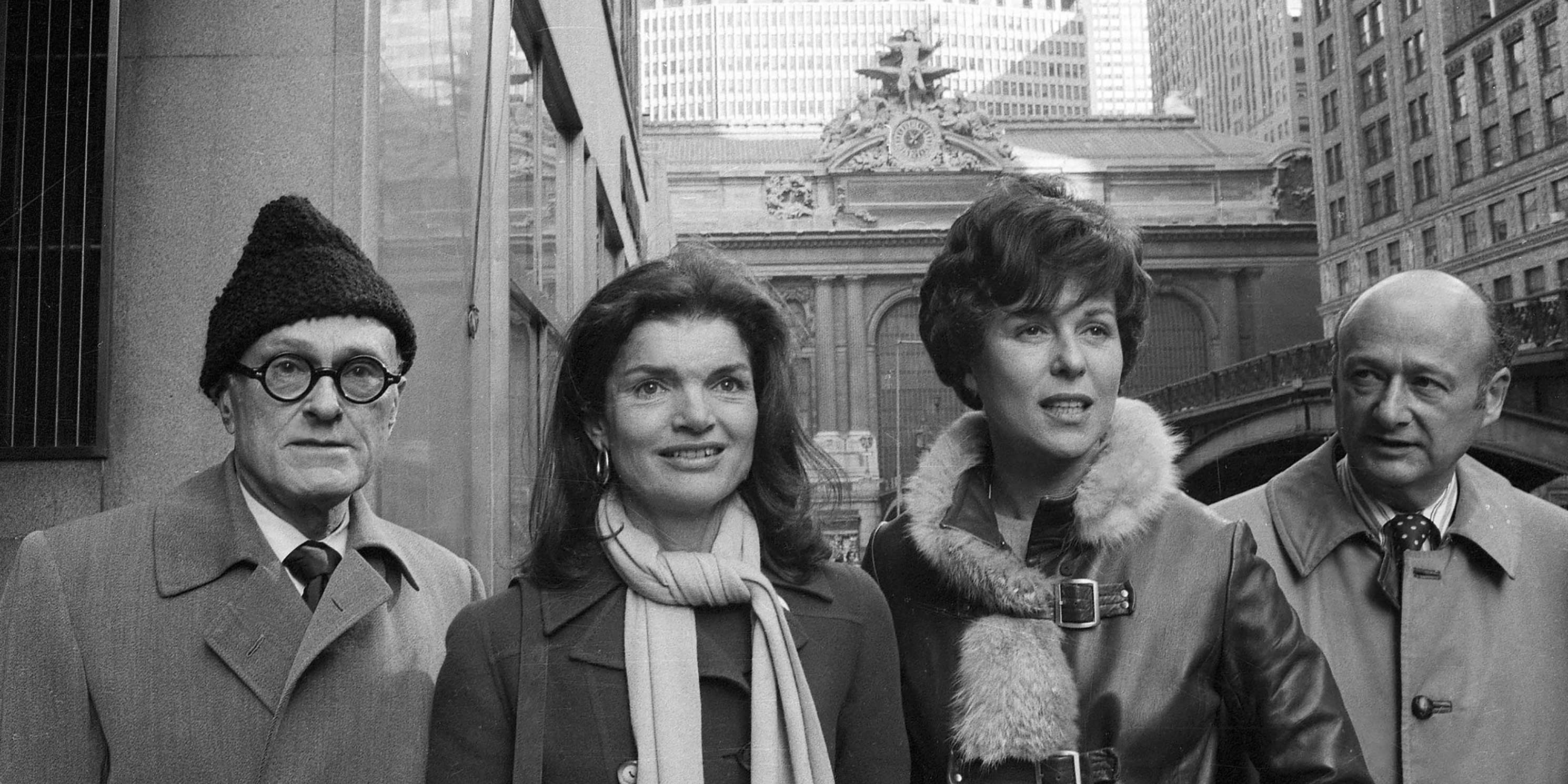 Saving a World Class Train Station
Shabby, cluttered and dark, Grand Central was in dire financial condition and had seen physical decline since the 1950s. In 1969, the station's owner, Penn Central Railroad, alighted on the plan to build an office building (designed by architect Marcel Breuer) above and across the entire south portion of the Terminal, effectively obliterating it. Faced with the prospect that the city would repeat the crime of permitting the destruction of one of its great edifices — the 53-year-old Pennsylvania Station had been torn down in 1963 — Municipal Art Society immediately recognized the threat to New York City's Landmarks Law, which it had fought hard to establish in 1965.
MAS marshaled its forces to ensure that the Landmarks Commission rejected Penn Central's proposal. But when, in February 1975, the New York State Supreme Court decided in favor of Penn Central and overturned Grand Central's landmark status, it was clear to MAS that a broader, more public campaign would be necessary to save the station.
Perhaps the greatest boost to the MAS cause was the phone call which came into Executive Director Kent Barwick's office the day after Judge Irving Saypol's decision. Jacqueline Onassis had read Paul Goldberger's coverage of the decision in The New York Times and asked how she could help. For the impending battle, the MAS suddenly had a general, who would popularize preservation, garner press coverage for the campaign among national and international press and enlist an army that could win the war.
The "Landmark Express"
With Mrs. Onassis in the lead, the MAS formed the Committee to Save Grand Central Station with former mayor Robert Wagner as chair, and including such luminaries as Philip Johnson, Brendan Gill, Doris Freedman and Fred Papert. "If we don't care about our past, we cannot hope for the future," said Mrs. Onassis at the press conference announcing the Committee, held appropriately at the Terminal's Oyster Bar. The group then traveled by train, dubbed the "Landmark Express," to Washington D.C., in order to call attention to the Supreme Court hearing.
Mrs. Onassis, now an MAS board member, put a charismatic public face on an intensive MAS effort involving many behind-the-scenes strategic actions, and she knew her role. She sent a personally hand-written letter to Mayor Abe Beame, successfully convincing him to file an appeal with the State, and when photographers flocked to her, she waved away those who wanted to shield her from them. "She was an astute politician, and a real advocate," Mr. Barwick has recalled. "As opposed to guarding her time, she really wanted to help. She understood the power of her presence and was very shrewd. She was a good sport, with writing skills, political savvy, and an instinct for people."
After an arduous campaign to save America's beloved and historic railroad station, Mrs. Onassis, MAS, and all of New York were rewarded with a triumphant outcome. The New York City Landmarks Law, appealed by the Penn Central railroad all the way to the U.S. Supreme Court was upheld, saving Grand Central Terminal and setting a precedent for historic preservation throughout the nation.
Sign up to stay informed.
Honorees
2022
Jon Batiste, Clara Wu Tsai & Joe Tsai, and Earl D. Weiner
2021
David Ehrenberg & Henry Gutman, Justin Garrett Moore, and Michael Evans
2020
Lisa & Dick Cashin and Alexandra & Philip Howard
2019
Candice Bergen, Gail Collins & Laura Walker 
2018
Kathryn & Kenneth Chenault and Audrey & Danny Meyer 
2016
William J. vanden Heuvel
2015
Daniel L. Doctoroff
2014
Bruce Ratner & MaryAnne Gilmartin
2013
Dr. Judith Rodin & David Rockefeller, Jr.
2012
Joan Ganz Cooney & Peter G. Peterson
2011
Diane von Furstenberg
2009
Peter L. Malkin & Robert A. M. Stern
More Results