Livable Neighborhoods Program
Helping New Yorkers become stronger advocates for their neighborhoods
2007–present
Founded on the principle that community involvement is essential to successful city planning, the Livable Neighborhoods Program (LNP) helps local leaders in under-resourced communities develop the knowledge and tools that they need to participate effectively in public land use review processes and engage in creative, community-based design and planning.
This program is supported, in part, by public funds from the New York City Department of Cultural Affairs, in partnership with the City Council, and the National Endowment for the Arts.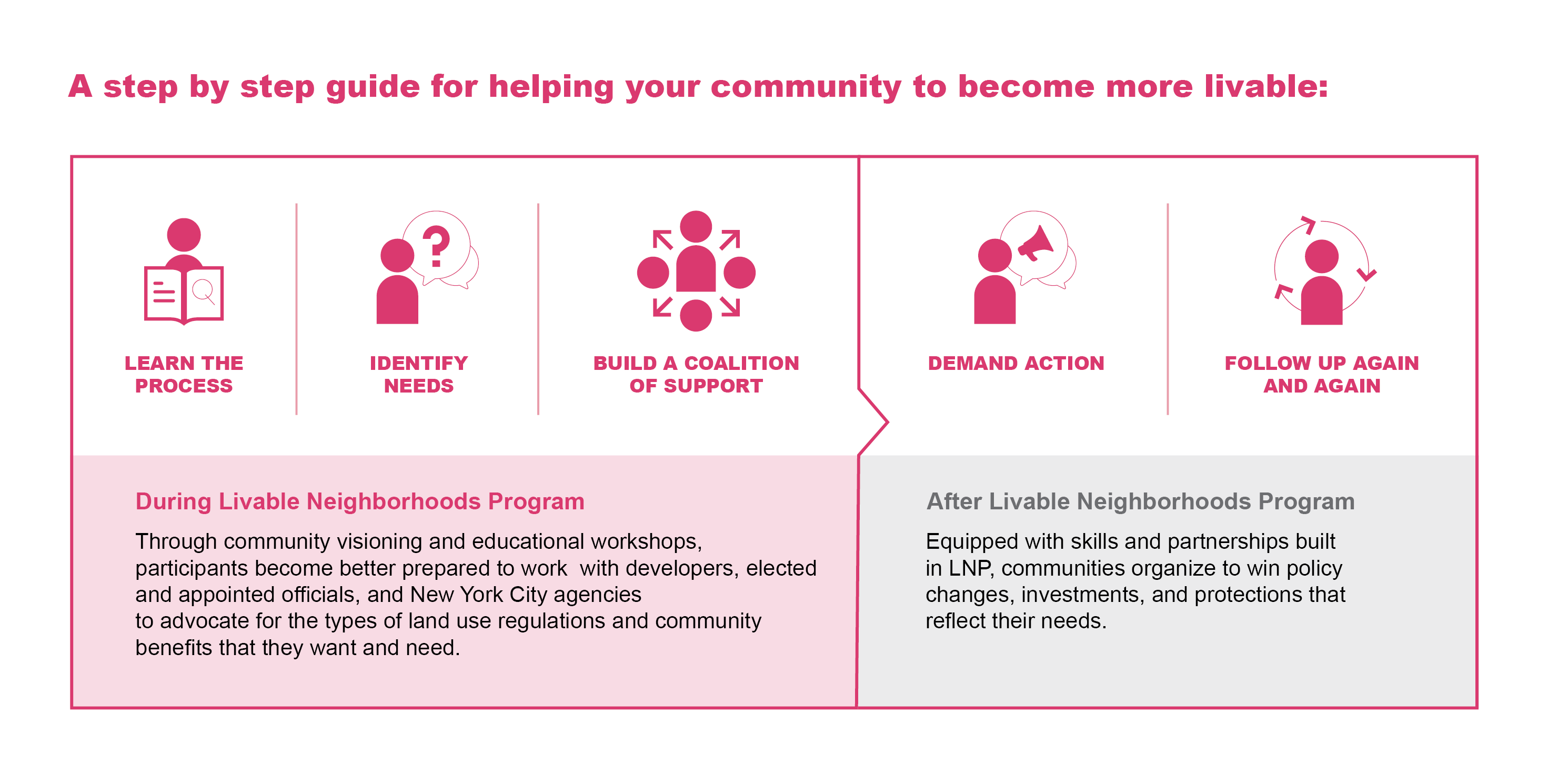 Previous LNP partners have said:
"The structure allowed us to recruit and build more diverse (culturally, socio-economically and geographically) audiences for our workshops. The speakers were well prepared and provided useful and factual information that was accessible to the attendees. In addition, the holistic aka Feminist structure of the workshops (providing childcare and a meal) allowed some people to participate who stated clearly they would not have been able to come otherwise."
"Thank you for the hard work and diligence of your staff. You work hard and long hours and we appreciate what you bring to our community. Plus, by offering funds for child care you really allowed working parents to participate so thank you!"
"The Livable Neighborhoods Program helps participants to confront the daunting challenges of our communities by giving the participants the tools to recognize those challenges and how to develop a successful strategy to go forward."
"It was a great team building exercise. It was a great way to show how a community can and should be well rounded and balanced. The program gave great ideas. It was a great way for everyone to discuss and express their concerns."
"The program exceeded our expectations as it shared what other communities are doing in other states and in this city. It left us with a working product."
"I enjoyed working with MAS, and the organizational perspective they brought to the table. I recommend the Livable Neighborhoods Program to any and all community-based partners."
Sign up to stay informed.
Help make this work possible
Advocate with us online
Follow MAS:
Get updates about our work!
Become a Supporter
MAS members and partners are crucial to everything we do. Please consider contributing to MAS and joining our community of advocates.
Support Us
Contact Us
Contact a staff member to learn more or join the campaign. planning@mas.org >
Members of the media looking to discuss this project further, contact us at mbaron@mas.org >
community-based partners who have participated in the program:
Ascendant Neighborhood Development Corporation
Asian Americans for Equality
Bronx Community Board 5
Bronx Community Board 7
Brownsville Partnership
Brownsville Community Justice Center
Flatbush-Nostrand BID
Greater Flushing Chamber of Commerce
HABNET Chamber of Commerce
Justice for All Coalition
Council Member Ben Kallos
Landmark East Harlem
Long Island City Coalition
Northfield Community LDC
Council Member Powers
Red Hook New York Rising Community Reconstruction Program
Queens Community Board 4
South Bronx Overall Economic Development Corporation (SoBro)
content partners who have contributed their expertise to the workshops:
Brooklyn Borough President's Office
Center for Urban Pedagogy (CUP)
Friends of the Upper East Side Historic Districts
Good Old Lower East Side (GOLES)
Historic Districts Council
Hunter College Center for Community Planning and Development
In Our Back Yard (IOBY)
Larisa Ortiz Associates
Manhattan Borough President's Office
National Consortium for Creative Placemaking
New York City Environmental Justice Alliance
New Yorkers for Parks
NYC Department of City Planning
NYC Independent Budget Office
NYC Landmarks Preservation Commission
Partnership for Parks
Pratt Center for Community Development
Pratt Institute's Programs for Sustainable Planning and Development (PSPD)
Sustainable South Bronx
Transportation Alternatives