Citation in Honor of the 125th Anniversary of MAS
From Governor Andrew M. Cuomo
March 22, 2018
MAS was honored to receive a special citation from New York State Governor Andrew M. Cuomo on the occasion of our 125th year, with best wishes for our continued success. Read the full citation below.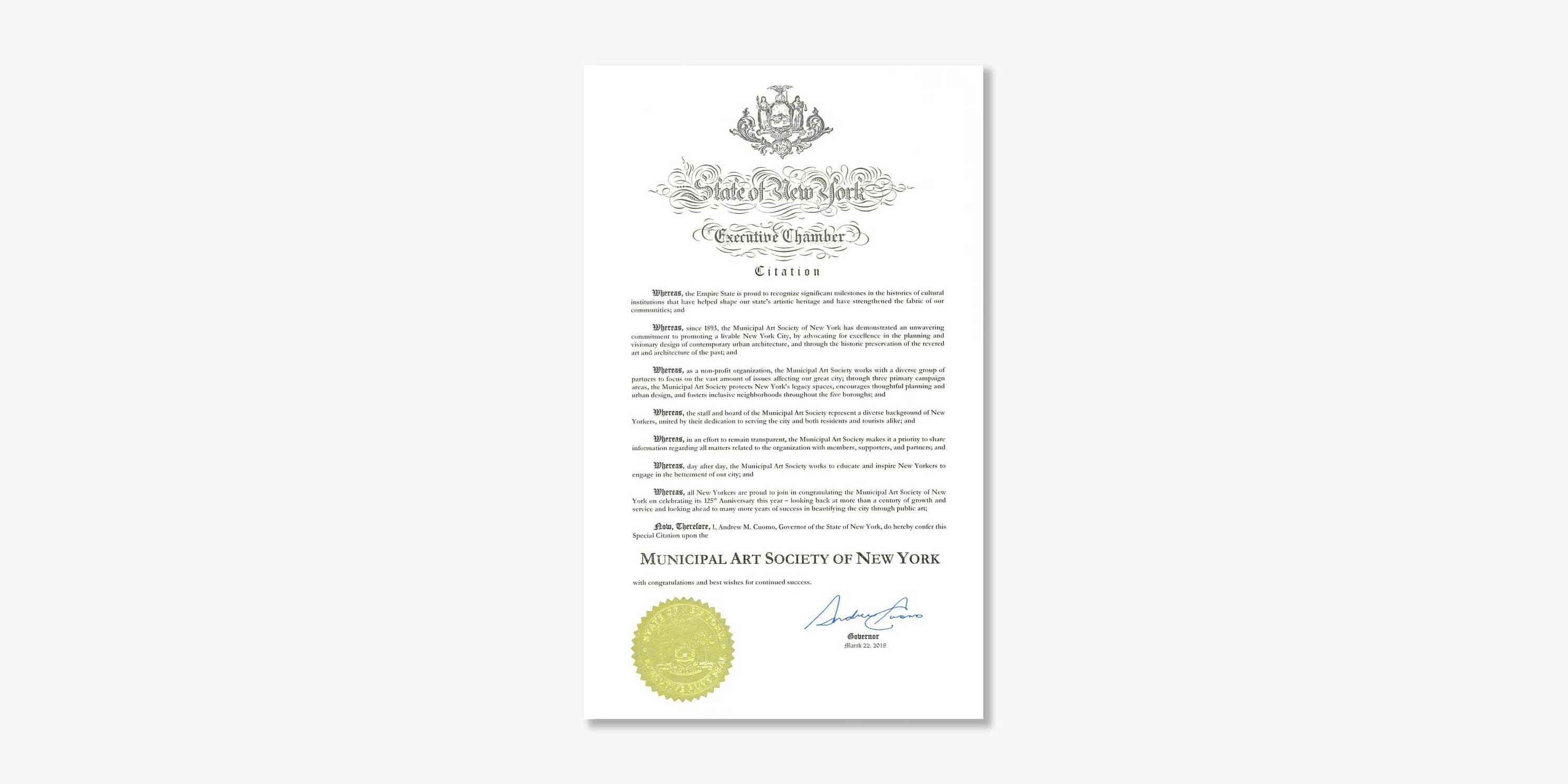 Whereas, the Empire State is proud to recognize significant milestones in the histories of cultural institutions that have helped shape our state's artistic heritage and have strengthened the fabric of our communities; and
Whereas, since 1893, the Municipal Art Society of New York has demonstrated an unwavering commitment to promoting a livable New York City, by advocating for excellence in the planning and visionary design of contemporary urban architecture, and through the historic preservation of the revered art and architecture of the past; and
Whereas, as a non-profit organization, the Municipal Art Society works with a diverse group of partners to focus on the vast amount of issues affecting our great city; through three primary campaign areas, the Municipal Art Society protects New York's legacy spaces, encourages thoughtful planning and urban design, and fosters inclusive neighborhoods throughout the five boroughs; and
Whereas, the staff and board of the Municipal Art Society represent a diverse background of New Yorkers, united by their dedication to serving the city and both residents and tourists alike; and
Whereas, in an effort to remain transparent, the Municipal Art Society makes it a priority to share information regarding all matters related to the organization with members, supporters, and partners; and
Whereas, day after day, the Municipal Art Society works to educate and inspire New Yorkers to engage in the betterment of our city; and
Whereas, all New Yorkers are proud to join in congratulating the Municipal Art Society of New York on celebrating its 125th Anniversary this year—looking back at more than a century of growth and service and looking ahead to many more years of success in beautifying the city through public art;
Now, therefore, I, Andrew M. Cuomo, Governor of the State of New York, do hereby confer this Special Citation upon the Municipal Art Society of New York with congratulations and best wishes for continued success.
Andrew Cuomo
Governor
March 22, 2018
Sign up to stay informed.