Fashioning the Future: NYC's Garment District
The Printing District and the Meat Market are now fashionable neighborhoods with little but their names to remind us of their original purpose. Yet the Garment District persists into the 21st century where people continue to create, innovate and sell. The Garment District is New York's history and future, a place where factories and fashion have been linked for almost a century.
Download Report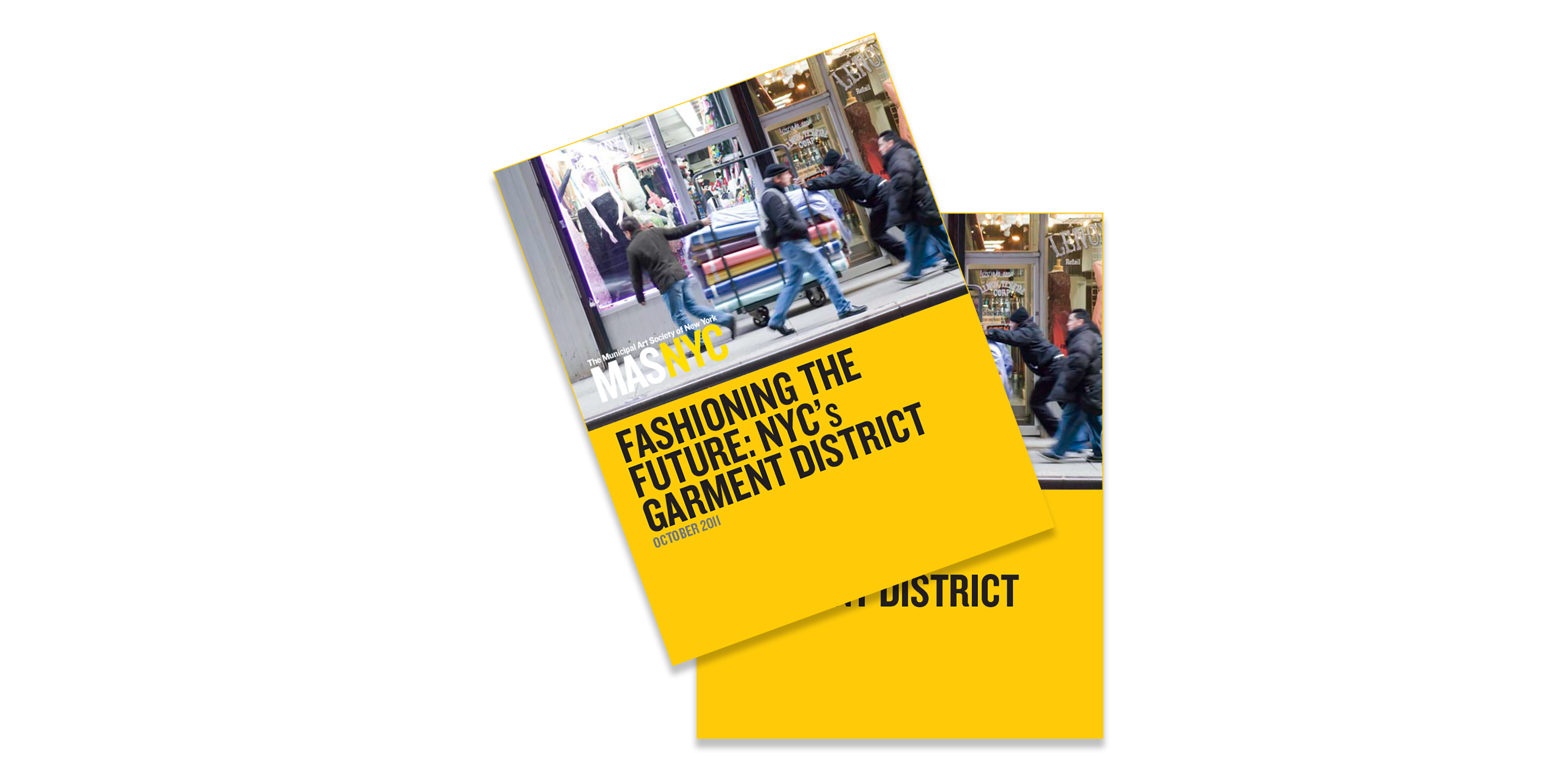 A livable city must offer diverse opportunities to its citizens—housing, education, transportation, jobs. MAS' core mission is to foster a more livable, more equitable, and more sustainable city. Over the last 20 years, MAS has viewed the Garment District through a variety of lenses: design, manufacturing, architecture. We see a district that has evolved from a heavy manufacturing hub to a laboratory of research and development, its nimble entrepreneurs adapting themselves to the vicissitudes of fortune and fashion.
Today, according to the New York City Economic Development Corp., the fashion industry employs approximately 165,000 people, accounting for 5.5% of NYC's workforce. Over 900 fashion companies headquartered here generate $9 billion in total wages with tax revenues of $1.7 billion for New York City. Every year the leading design schools – FIT, Parsons and Pratt – turn out thousands of educated designers looking for employment. New York City is also the nerve center of fashion marketing and journalism, with Vogueand Women's Wear Daily as well as new media outlets such as The Business of Fashion, Refinery29, The Sartorialist, and StyleCaster based here.
At the figurative and literal center of all of this activity is the Garment District. The district has become an innovative urban campus where designers en-gage directly in the iterative process of creating a product. Within the space of a few blocks a designer can purchase raw material, work with manufacturers to cut, sew and assemble a finished garment to be shown and sold in these same blocks. This clustering facilitates discovery and creativity as well as efficiency, particularly important now that the costs of outsourcing are rising.
To continue to lead in an industry as competitive, demanding, and creative as fashion, New York must support fashion entrepreneurs. As it has done for many industries, we must explore mechanisms to protect and promote an industry that contributes so much to the economic and creative vitality of NYC and the US.
This report outlines some approaches to build on the very real strengths of the industry. We recognize the futility of dependence on government alone. Collaboration is crucial among the design community, manufacturers, educational institutions, non-profits, fashion media, consumers and property owners; they all play a critical role in ensuring the success of the district and the broader fashion industry which depends upon it.
The Garment District has already proven that it responds to change, provides an economic ladder for many recent immigrants, and contributes to the city's iconic status as a fashion capital. Against the odds, the district continues to create, innovate, and produce.
Sign up to stay informed.