President's Letter: November 2021
Monthly observations and insights from MAS President Elizabeth Goldstein
November 23, 2021
My husband, who has been on a mission to get his New York City citizenship, was an explorer from the moment he arrived in the city in June 2017. (He has also read The Power Broker, Gotham, and is working on Greater Gotham.) However, we have been keeping close to home since the pandemic began, so his excursions have been curtailed. When he said to me a couple of weeks ago that he was itching to explore again, we made a plan.
First, we took advantage of our destination to stop at Arthur Avenue to do a little ravioli and mozzarella shopping. I walked into Casa Della Mozzarella and realized why they are asking you to wait on the street until you are called! It is tiny and made me a little claustrophobic that day. But I emerged with both fresh and smoked mozzarella tucked under my arm.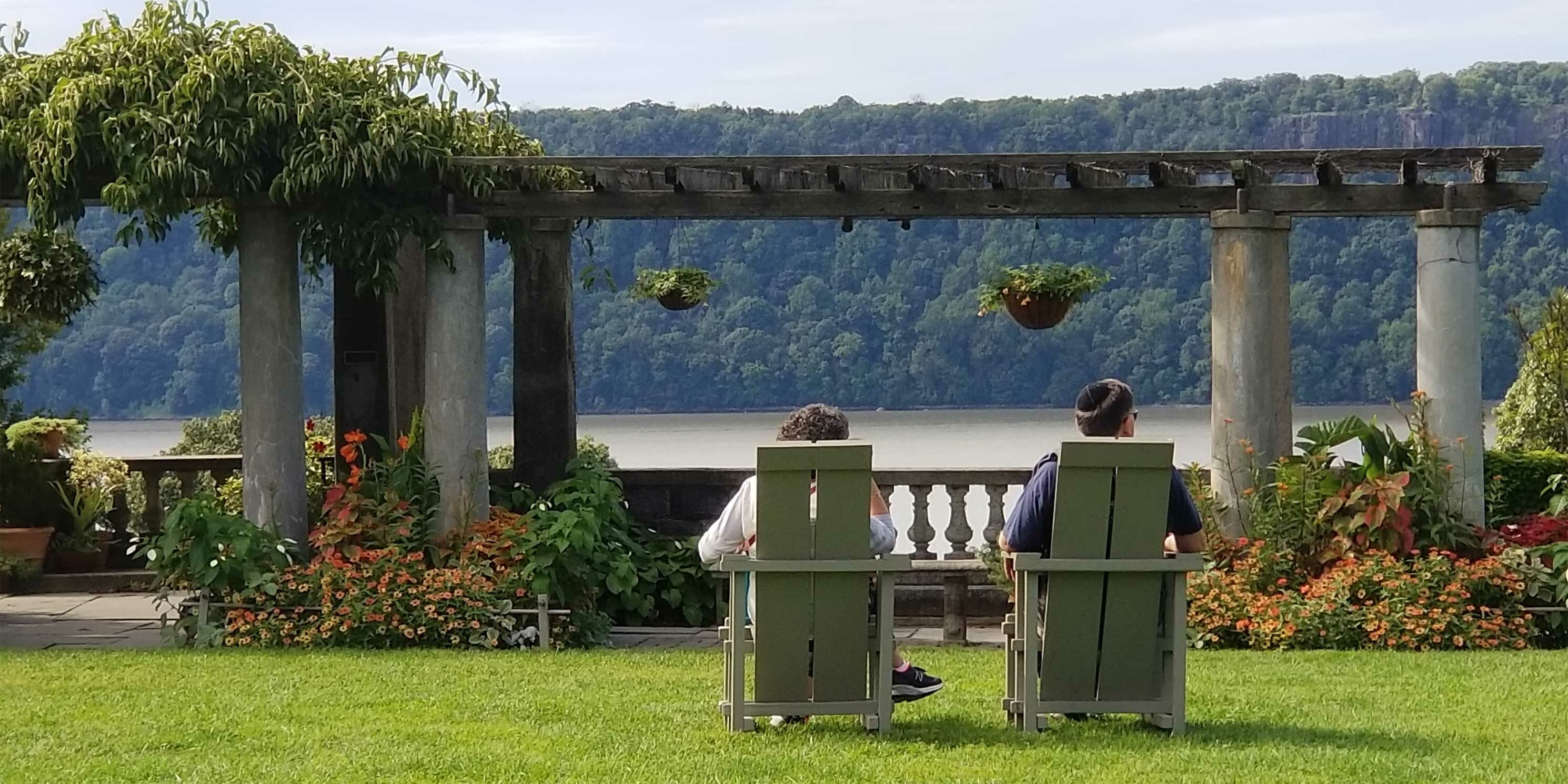 We got ravioli from Borgatti's and went around the corner for bread and biscotti from Madonia Bakery. Then back to the Zipcar to store our spoils in a cooler and we were off. The real destination for the day was Wave Hill which I hadn't been to since the 1980s. We hadn't had a chance to get out of town to see the fall foliage and that day seemed like a last shot at seeing the Palisades in all their glory.
What I hadn't realized as we set off was that Steve had never really traversed the Bronx that way, seeing the green connections. He had been to the borough plenty, my Dad had lived on Bronx Park East and we had been to the New York Botanical Gardens on many occasions and even to the Zoo with our grandkids. Gun Hill Road and the South Bronx were familiar to him. But for some reason, the sweep up the Bronx River Parkway to Fordham and then to Mosholu Parkway, through Van Cortlandt Park to the Henry Hudson and Riverdale was a revelation. The north Bronx was in its fancy dress, with vibrant trees against that slightly gray overcast fall sky that makes every shape and color pop.
Queens is my home now and I love it, as my loyal readers know, but the journey that day made me a little homesick for the Bronx of my childhood. My parents were explorers too, and for the same reasons as Steve is. It is a way to make a new place your home; to inhale it so it become a part of you. For my parents, both of whom grew up in the Boston area, New York was an adventure as young parents far from family and familiar places
Wave Hill was beautiful. The trees on the grounds were stunning and the Palisades were what I had hoped for—a Hudson River School painting come alive. Wave Hill has a wide variety of tree species, including a small collection of deciduous conifers. We share the enormous sub we had gotten as a last-minute purchase on Arthur Avenue sitting on a bench watching kids having a ball. Then, we wandered until we got too cold to continue and headed home with our first hot chocolate of the season in hand.
There is something about late fall in New York City, the fleeting moment before the excitement of the holidays and the melancholy of the long winter. Thanksgiving is one of my favorite holidays. It is the beginning of a more leisurely time with family and friends and indeed a time to be thankful.
I am thankful to live in this vibrant, albeit challenged city. I am thankful for all of your support as we grapple with issues that are neither cut nor dry. I am thankful for the fine work of the MAS team and our amazing partners and stakeholders. We may not all agree all the time, but we bring our knowledge and passion to moving the city forward to a better future. That camaraderie is a gift.
And speaking of gifts, I know many of you give as generously as you can to MAS in our year-end fundraising. We are delighted to announce that this year, the MAS Board has made a challenge grant that will match your gift up to $50,000. And between now and Giving Tuesday on November 30, all gifts to MAS will be tripled! Whether you donate on Giving Tuesday or any other time before the end of the year, you will help us meet that challenge. And I will be thankful for that!
Have a wonderful Thanksgiving.

Elizabeth Goldstein
President, Municipal Art Society of New York
Sign up to stay informed.