Keynote presentation from Professor Carlos Moreno, Special Envoy for Smart Cities for Mayor Anne Hidalgo in Paris, followed by a conversation with Jarrett Murphy, Executive Editor, City Limits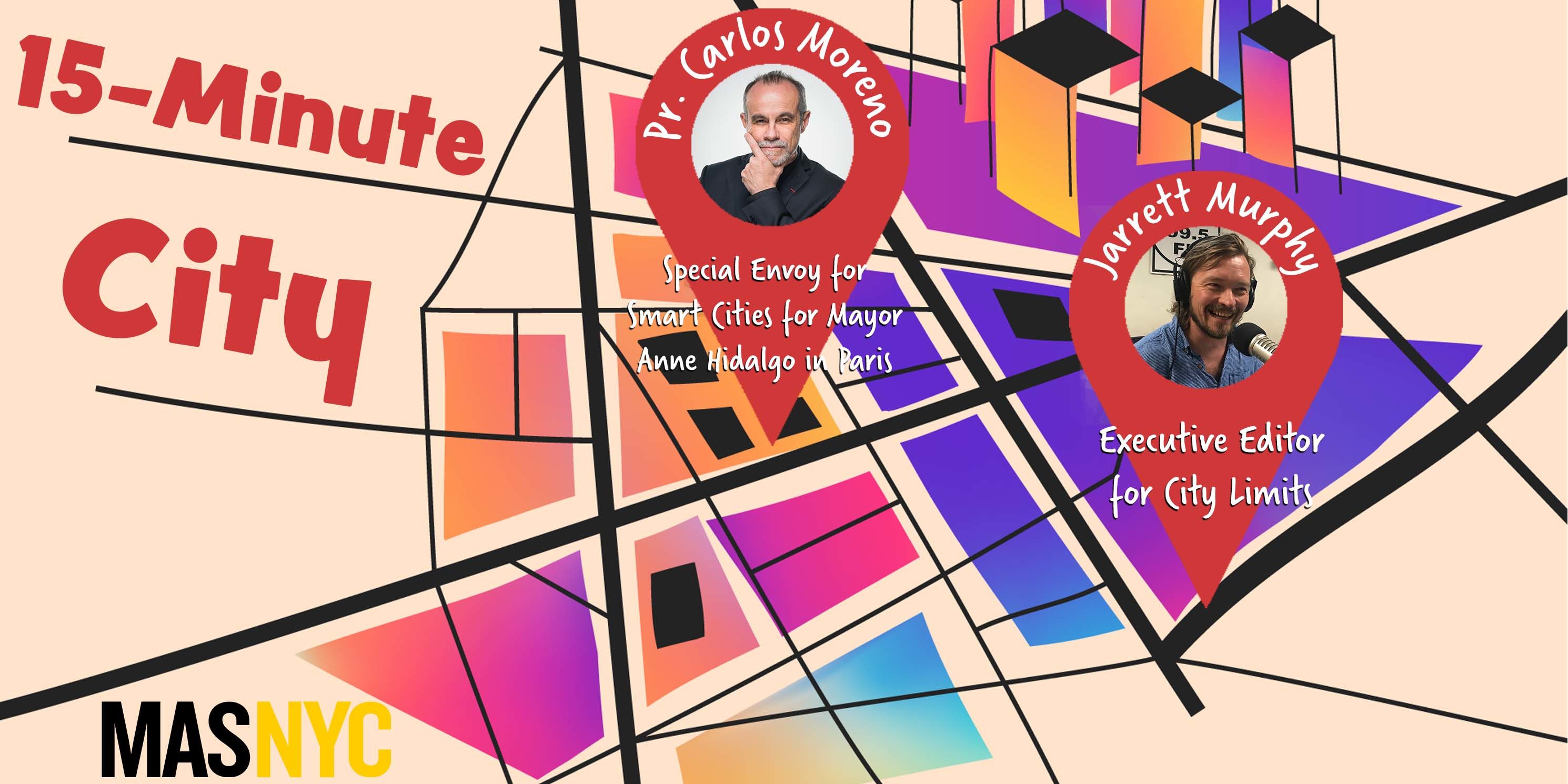 Speaker biographies
Professor Carlos Moreno, Keynote Speaker
Scientific Director of the Chair eTi (Entrepreneurship — Territory — Innovation), Panthéon Sorbonne University — IAE Paris; Special Envoy for Smart Cities for Mayor Anne Hidalgo in Paris
Researcher of international renown, Carlos Moreno, is specialized in the study of complex systems and in the development of innovation processes. He is now renowned as a scientific advisor for national and international figures of the highest level, including Mayor Anne Hidalgo of Paris in his role as the "Smart City" special Envoy of the Mayor. He works at the heart of issues of international significance as a result of his research, and pioneered the 15-Minute City concept, among many others. His contributions are valued for their originality and incorporated in multiple projects of local governance and urban transformations in France and worldwide. His work aims to promote the transformation of our lifestyles and urban spaces, and to offer solutions to the issues faced by the cities, metropolises and territories in the 21st century. He was awarded Knight of the Order of the Legion of Honor in 2010 by the French Republic. In 2019 he received the Foresight Medal by the French Academy of Architecture.
Jarrett Murphy, Moderator
Executive Editor, City Limits
Jarrett Murphy is the executive editor at City Limits, an award-winning policy news outlet that has covered New York since 1976, and the co-host of WBAI's "Max and Murphy Show." Before joining City Limits in 2007, he worked at the Hartford Advocate, CBS News and the Village Voice. A graduate of Fordham University who studied economics at the LSE and New School, Jarrett lives with his wife and two sons in the Norwood section of the Bronx, where he coaches youth baseball and is the bass player/lead singer of a rock/funk group called Fort Indy.
Spencer Williams, Opening Remarks
Director of Advocacy, Municipal Art Society of New York
Spencer Williams is the Director of Advocacy at MAS. Before joining MAS, he worked on growth management and equity planning in the Northwest, working to advance 20-minute neighborhoods as part of a healthy, connected city as a member of the City of Portland's Urban Design Studio. He also supported the City of Seattle's Housing Affordability and Livability Agenda as an advocate, City Planning Commissioner, and Council Staff. At MAS, Spencer heads up the Livable Neighborhoods Program (LNP), which helps local leaders in under-resourced communities develop the knowledge and tools that they need to participate effectively in public land use review processes and engage in creative, community-based design and planning. He is a certified planner who holds a Master of Urban & Regional Planning degree from Portland State University and B.F.A. in Architecture from Savannah College of Art and Design. He currently resides in Brooklyn.