Joint MAS-RPA Statement on Penn Station-Farley Complex
Statement by The Municipal Art Society of New York and Regional Plan Association on New York Governor Andrew Cuomo's announcement on Penn, Moynihan Station
October 3, 2016
We congratulate Governor Cuomo for his leadership in taking an important first step toward a new Penn Station. The plan announced last week addresses some of Penn's most visible deficiencies: low-slung ceilings, rundown public spaces, poor signage, limited amenities and cramped corridors. Governor Cuomo's initiative will ensure that Moynihan Station is built—and soon.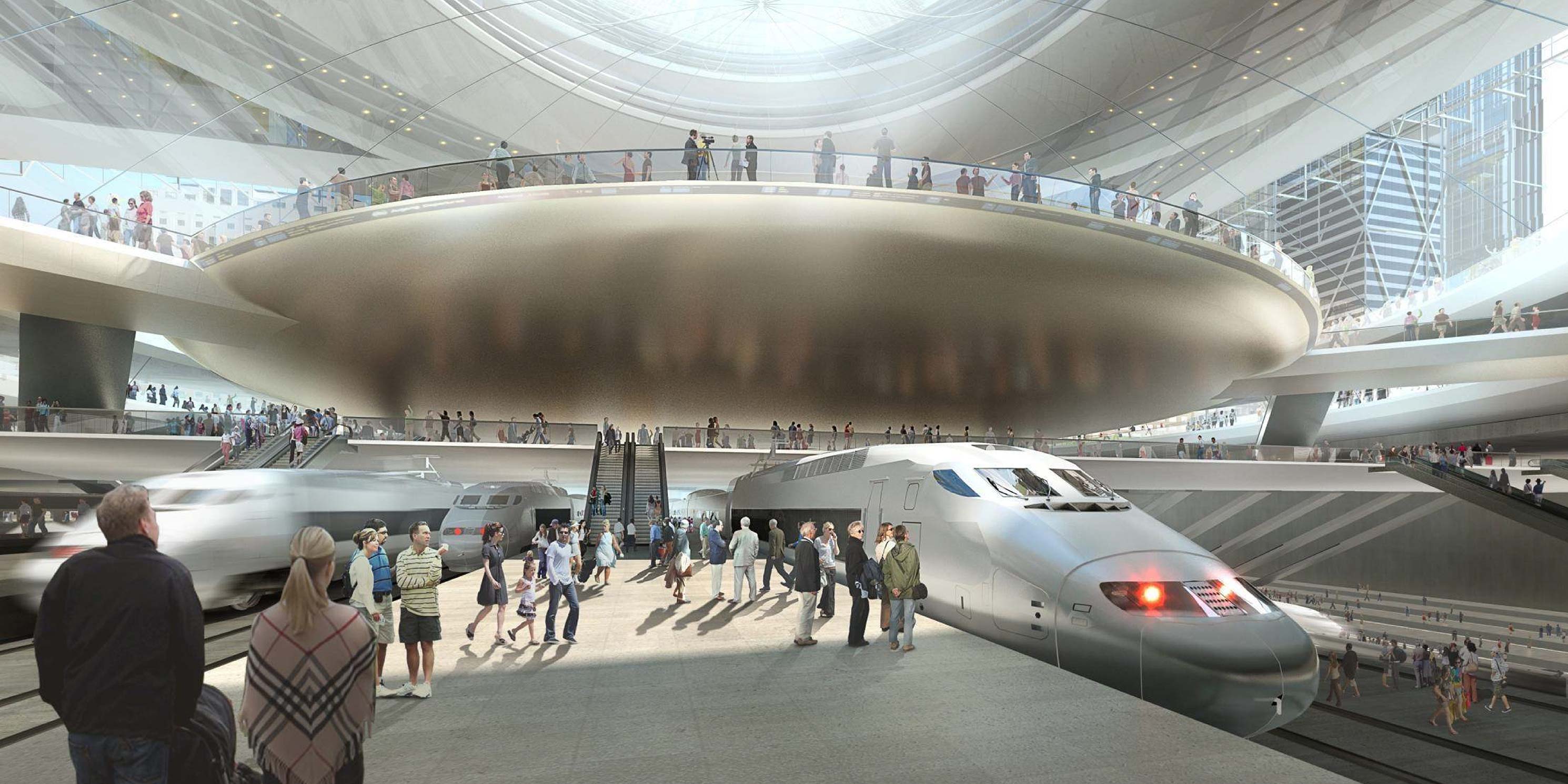 These upgrades will certainly improve the experience at the transit hub, but by themselves, they won't go far enough. In order to provide capacity for future growth and unlock the economic development potential of our region, much more needs to be done by all the partners with a stake in our future. We call on all interest groups and decision makers — both public and private — to advance ideas that address long-term concerns while these new measures are being implemented.
Specifically, MAS and RPA ask our federal, state and local elected leaders; the Port Authority of New York and New Jersey; Amtrak; the U.S. Department of Transportation; NJ Transit; MTA, LIRR, NYCTA, and Metro-North; and business leaders and property owners to commit to the following:
Build Gateway, a new rail tunnel under the Hudson River connecting New York to New Jersey and linking the entire Northeast. This is the single most important infrastructure investment in the nation, and needs to move ahead immediately. As part of the Gateway project, Amtrak and the Port Authority of New York and New Jersey must examine operations at Penn Station and study alternatives – such as through-running trains from New Jersey to Long Island and Connecticut and integrating routes, scheduling and frequency – that could improve efficiency at the station and provide greater regional connectivity.
Develop a long-term vision and strategy for the complete redevelopment of Penn Station, including Moynihan Station, that focuses on critical track and platform improvements. That vision also should incorporate the eventual relocation of Madison Square Garden so that Penn Station and the surrounding area can be transformed into a welcoming, modern destination that meets the mobility needs of our growing region.
Develop a comprehensive planning framework for West Midtown, examining options for future development, land use, value capture potential and historic preservation. With just seven years remaining on Madison Square Garden's operating permit, we urgently need a robust plan for the district.
The improvements contemplated as part of the Penn-Farley Complex address very real and urgent needs of the present, and they should move forward. As Governor Cuomo said at his announcement on Tuesday, "New York's tomorrow depends on what we do today." To that end, it is imperative that we not simply address immediate needs at Penn Station, but holistically and intentionally plan for the long-term future of our city and region.
Established in 1893, The Municipal Art Society of New York (MAS) advocates for excellence in urban design, planning, historic preservation, and community engagement. From saving Grand Central Terminal to fostering the establishment of innovative land-use laws, MAS is at the forefront of New York's most important campaigns to improve and re-imagine our city's built environment by promoting economic vitality, cultural vibrancy, ecological sustainability, and social diversity.
Regional Plan Association is an independent, not-for-profit civic organization that develops and promotes ideas to improve the economic health, environmental resiliency and quality of life of the New York metropolitan area. We conduct research on transportation, land use, housing, good governance and the environment. We advise cities, communities and public agencies. And we advocate for change that will contribute to the prosperity of all residents of the region. Since the 1920s, RPA has produced three landmark plans for the region and is working on a fourth plan due out in 2017. For more information, please visit www.rpa.org.
Sign up to stay informed.