President's Letter, December 2017
Monthly observations and insights from MAS President Elizabeth Goldstein
December 22, 2017
When is the greater good not good enough? I have been contemplating this question a lot recently, but a small park in Manhattan is what has brought this most urgently to mind. Marx Brothers Playground is located on Second Avenue, between 96th and 97th Streets. (Yes, it is named after Chico, Harpo, Groucho and their two brothers who grew up nearby.) The park sits at the juncture of Carnegie Hill and East Harlem – both communities underserved by open space.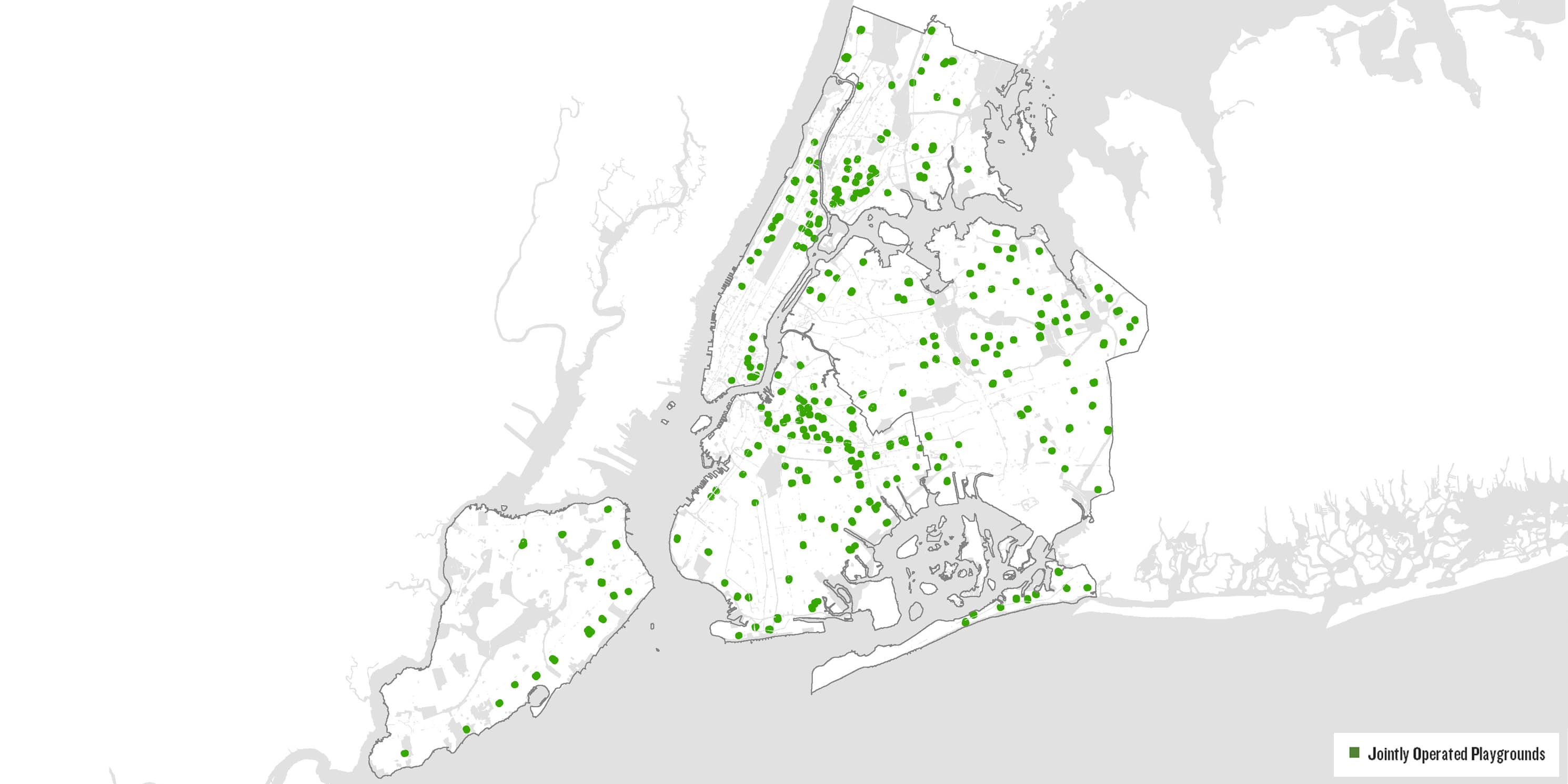 It has also become the focal point of a very controversial project that is raising fundamental challenges to the protections that parks should have in New York City.
On the surface this project seems like a good thing. It could deliver state-of-the-art space for three schools as well as a mixed use residential building with permanently affordable housing. Sounds good, right? That's what we thought when we took a cursory look at it last spring.
But as some of our long-time partners began to express concerns, we looked more closely at the details, and indeed there is a lot to be concerned about. In the end, what looks like a simple relocation of a park to the mid-block, turns out to be a zoning sleight-of-hand that sets a dangerous precedent for all of New York City parkland.
The City has apportioned development rights to a park that has no such privileges according to the City Map or Zoning Resolution. They have then transferred those air rights to entitle the construction of a larger building. The result is a park that will be almost completely in shadow, but more importantly, at risk for future development itself.
Park alienation normally requires replacement in kind, value, and use. The Education Construction Fund (ECF) and proponents of the project would argue that they are doing just that. However, ECF has made no binding commitment to the "replacement" park in any of the City processes to-date. They will continue to own the land on which the new park will sit and will be able to decide the park's fate in the future.
Essentially, ECF has figured out how to zone a park in order to build out-of-scale development, corrupting any of the other benefits achieved here. It is open season on our public parks, a measure too far for the public good.
MAS is proud to stand with Carnegie Hill Neighbors and Friends of the Upper East Side to say that this trade is too clever for its own good. Together, we call on the City to reconsider this ill-conceived plan.
In this season of holiday cards and family "newsletters," I also want to share some news from MAS on the home front. After three years at the helm, Fred Iseman has concluded his term as Chairman of MAS, though he will continue to serve as a member of the board. He is succeeded as Chair by fellow board member Christy MacLear, who until recently served as our Vice Chair, and prior to that, Chair of the MAS Preservation Committee. Please join us in thanking Fred for his leadership on the board and his continued support of the organization – and in welcoming Christy!
Christy O. MacLear
Christy MacLear is the Vice Chairman of Art Agency Partners, a consulting subsidiary owned by Sotheby's. Previously, she served as the inaugural Executive Director of the Robert Rauschenberg Foundation and the first Executive Director of the Philip Johnson Glass House opening the National Trust for Historic Preservation site to the public. Additionally she served as the Director of the Museum Campus in Chicago, where she represented the lakefront museums in the movement of Lake Shore Drive, and as an early team member of the Walt Disney Development Corporation's new town, Celebration. Ms. MacLear serves as a Member of the Board of Trustees at Stanford University in addition to her new post as Board Chair of MAS. She holds a degree in Urban Design & Architectural History from Stanford University and an MBA in Real Estate Finance from the Wharton School at the University of Pennsylvania.

Elizabeth Goldstein
President
The Municipal Art Society of New York
Sign up to stay informed.