President's Letter: February 2022
Monthly observations and insights from MAS President Elizabeth Goldstein
February 28, 2022
I woke up this morning to news of Russian troops encircling Kyiv. Already, hundreds of Ukrainians have died since the invasion began last week. Like all of you, I have been watching this situation escalate and have tried to make sense of it. I have no special knowledge of foreign affairs, only an ordinary lifetime of memories of moments like this—times of true international crisis.
As always, what strikes me in moments like this is how connected New York City is to the world. First, I saw an Instagram post from a local merchant who sells sandwiches and other treats on 34th Avenue in Jackson Heights inspired by Israeli, Russian, and Georgian cuisines. Then a few days ago I read a Facebook post from a childhood friend of mine, Helen Churko, in which she recounted visits with her father to Ukrainian Orthodox churches in the South Bronx and the East Village, the latter often followed by a visit to Veselka.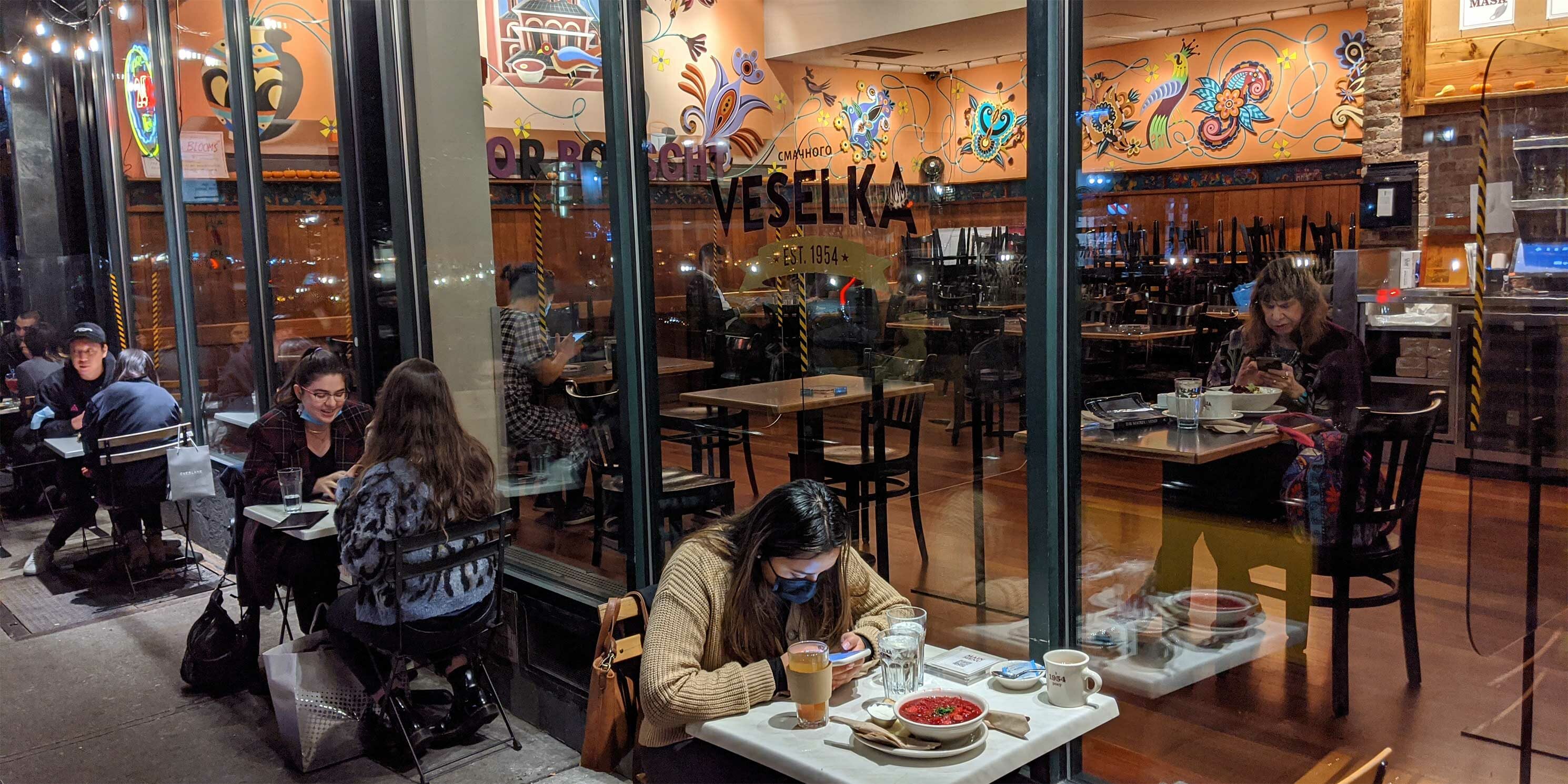 Veselka is a family favorite for its steamy dining room and hearty Ukrainian fare. This sent me off to see if there was anything new on the Veselka website and, sure enough, the very first thing you see there now is a "Stand with Ukraine" hashtag. And now they are making the ubiquitous black and white cookie with the colors of the Ukrainian flag. (If you have not been to Veselka, I urge you to try it.) And at the end of last week, a call with one of our key consultants reminded me of her family's origins in Ukraine. Indeed, 150,000 people of Ukrainian descent live in New York City.
This is a reminder that the places we think of as so New York have worldly connections. The events of the world resonate here in our city. I have been reminded often of the ways the world is knitted into the New York fabric. The folks that went to the airport when Trump imposed the travel ban to protest. An anguished doctor of Indian descent who wrote of his worries about COVID impacts on his family and the population of Mumbai. He couldn't go there to help but his heart was there every day.
We tend to think of the glamorous side of these worldly connections: French designers like Christian Dior who made New York City their home; actors who have done the same or great chefs who open restaurants here. However, there is a much more ordinary side, the migrants and immigrants who still have deep rooted connections to their families far away. This shapes the news we watch and how close it feels to our own lives. It also shapes our city in fundamental ways. It also defines our public realm, the spaces that are most often used for respite and exercise become places for protest and the outpouring of rage and sympathy.
As these events unfold, we must take care to hear and see the impacts it has in our community of New Yorkers from here and everywhere.
Thanks for all you do to nurture that community.

Elizabeth Goldstein
President, Municipal Art Society of New York
Sign up to stay informed.