President's Letter: June 2023
Monthly observations and insights from MAS President Elizabeth Goldstein
June 29, 2023
On one of those days that predicted rain but turned out to be a lovely, clear day, I set out with my sister to walk from the Angelika Theater where we had seen Asteroid City, across Greenwich Village to the Whitney Museum. It was a bit of a shock to walk out the back door of the Angelika to see the new, looming glass building that the house of NYU built.  I have mixed emotions but like the spacious sidewalk along its north façade.  It makes the bulk a little more approachable.
It has been a while since I had the occasion to walk across Bleecker Street. NYU is out for the summer session. It was Juneteenth, so it seemed like many people were elsewhere. I was a little apprehensive about what we would see since there have been so many small business closures, and I feared a lot of abandoned or unutilized restaurant sheds.  What I saw was quite different.
You have to understand that the Village of my mind harkens back to the days of ethnic clothing, as we quaintly called it then, head shops, Orange Julius and Balducci's.  (I can see some of you nodding your heads and those that are just bewildered!)
I had my first falafel around the corner from my dad's office on University Place.  (The counter place is long gone. I discovered Mamoun's much later.)  I spent my radical days at 853 Broadway, a lovely historic building right at Union Square that has lost its historic lobby to the ravages of modernization. After hours, I sat with friends in the Cedar Tavern to talk about politics, history, and social change.  I ate lasagna at tiny Italian restaurants all over the East and West Village, followed by espresso at the likes of Dante's.  Later, I often ate with friends at the Lion's Head Tavern, just up the street from Stonewall.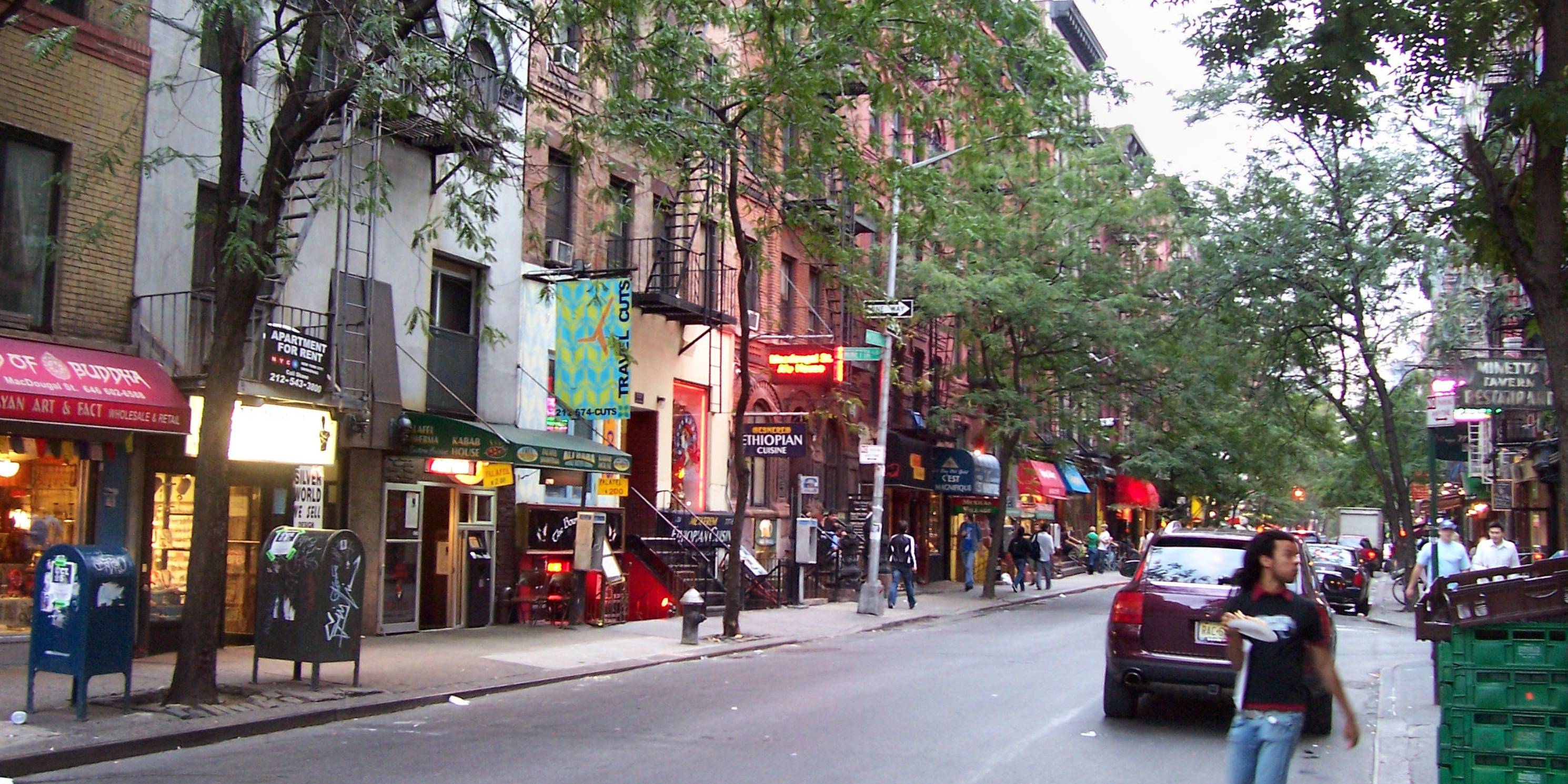 What amazed me on my walk across Bleecker was that Rocco (more grandly, Pasticceria Rocco) and John's are still there and seem to be thriving.  They live cheek to jowl with bubble tea shops and fancy salons.  We passed Murray's Cheese Shop, and I wondered how old it was.  I had been terrified by their closure early in COVID and relieved to see them remerge.  It is such an interesting and contested story.  Murray's was founded in 1962, around the corner on Cornelia Street.  Part of their success in the early 2000s was that they have a national business with Kroger's. Did you know that Kroger's the supermarket chains cheese selection is managed by Murray's??  I did not.  Kroger's now owns Murray's and together they learned to pivot to the on-line commerce that helps Murray's survive the pandemic.
There are certainly some empty storefronts along Bleecker these days, but mostly new high end clothing shops and lots of young people out and about from all over the city and region.  It is not the scruffy Village of my childhood or young adulthood, but it seems to be pivoting and surviving without losing all of its historic patina, NYU's new building notwithstanding.   It feels lively even without the students.  And it has enough favor of the past to make the occasional sizzle of the new be a fun surprise.  There is still a line outside Joe's where the locals are mixing with the tourists wondering how to navigate the crazy line for their slice.  That walk felt old and new at the same time.  Our historic districts are great treasures, in part because life will change, generations get older, and yet there is still going to be much that feels familiar.  The kid from the Bronx in me is a little reassured that I recognize the essence of the place and that is still alive and kicking.
I hope you enjoy a walk somewhere this holiday weekend!  Thanks for all your support.

Elizabeth Goldstein
President, Municipal Art Society of New York
Sign up to stay informed.