Three Extraordinary New Yorkers Receive the 2019 Jacqueline Kennedy Onassis Medal
Candice Bergen, Gail Collins, and Laura Walker were honored at the Municipal Art Society's Gala
June 3, 2019 | New York, NY
The Municipal Art Society of New York (MAS) presented the Jacqueline Kennedy Onassis Medal, the organization's highest honor, to Candice Bergen, Gail Collins, and Laura Walker. The awards were presented at MAS's annual gala on May 30 at The Tisch Skylights at The Shed, one of the first events to be held in the new space. Following the presentation of the awards, the honorees were joined in conversation by NBC's Cynthia McFadden. Photos from the event can be viewed on Flickr.
"This year's gala celebrated the role of art, criticism, and commentary in our famously outspoken city," said Elizabeth Goldstein, President of MAS. "Our 2019 honorees are champions of public discourse at a time when candid and thoughtful dialogue is more precious than ever. From the screen to the page to the airwaves, their voices have shaped our culture and informed our perspective on the city we love. We are grateful to all three honorees for their contributions to New York and delighted to honor them."
Download Press Release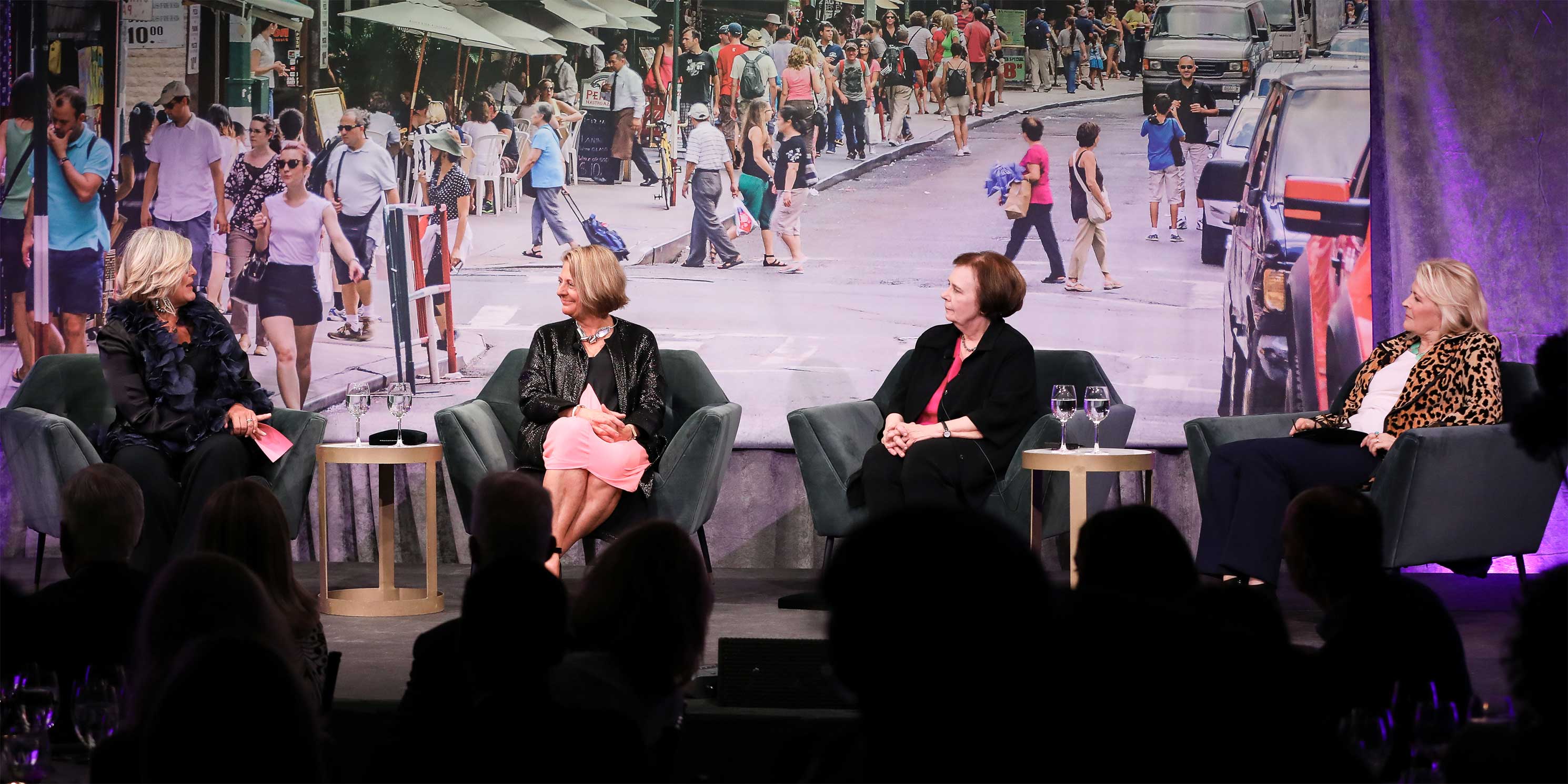 The event raised more than $700,000 and proceeds will support MAS in its mission to educate and inspire New Yorkers to engagement in the betterment of our city. Founded in 1893, MAS was instrumental in key battles that have shaped the future of New York, from establishing a national model for historic preservation law to saving Grand Central Terminal from demolition in the 1970s, in partnership with MAS Board Member Mrs. Kennedy Onassis herself. Learn about MAS's more than 125 years of advocacy.
About the Honoree: Candice Bergen
Candice Bergen is a former model, actor, author and philanthropist. Though perhaps best known for her role as Murphy Brown in the television series (1988-1998) of the same name for which she won five Emmys and two Golden Globe awards, Candice also appeared for five seasons as lawyer Shirley Schmidt on Boston Legal and garnered two Emmy nominations. Last fall, after 20 years, Candice returned to the iconic of role of Murphy Brown for thirteen episodes on CBS. Since the 1960's Candice has appeared in more than thirty films including The Group, Carnal Knowledge, The Sand Pebbles, The Wind and the Lion, The Women, Sweet Home Alabama, Miss Congeniality and more recently The Book Club. She received an Academy Award nomination for Best Supporting Actress in 1979 for her work in Starting Over and received the BAFTA Award for Best Actress in a Supporting Role for Ghandi in 1982.
She made her Broadway debut in the 1984 play Hurlyburly and went on to star in the revivals of The Best Man (2012) and Love Letters (2014). She was not only the first woman to host Saturday Night Live in 1975 but also the first woman to host five times.
As a model, she appeared on the cover of Vogue multiple times and represented brands such as Chanel in the 1960s and 1970s. She is the author of two New York Times best-selling memoirs, Knock Wood, published in 1984 and A Fine Romance, in 2015. In 2016 she created BergenBags, which is a personal customization business in which she paints images and monograms on beloved handbags. All proceeds go to charity.
About the Honoree: Gail Collins
Gail Collins is an Op-Ed columnist for The New York Times and writes about American politics and culture. She joined The New York Times in 1995 as a member of the editorial board. In 2001 she was appointed Editorial Page Editor–the first woman to hold that post at The Times.
Gail is also the author of five books: When Everything Changed: The Amazing Journey of American Women from 1960 to the Present; America's Women: Four Hundred Years of Dolls, Drudges, Helpmates and Heroines; As Texas Goes: How the Lone Star State Hijacked the American Agenda; a biography of William Henry Harrison, Scorpion Tongues: Gossip, Celebrity and American Politics, and The Millennium Book which she co-authored with her husband, Dan Collins. She is currently at work on a history of older women in America to be published in October 2019.
Before joining The Times, Gail was a columnist at New York Newsday and The New York Daily News, and a reporter for United Press International. Since 2013, she has been a member of the Pulitzer Prize Board.
About the Honoree: Laura Walker
Laura Walker was President and CEO of New York Public Radio (NYPR) from 1996 through 2019. It is the largest public radio station group in the nation. Laura joined NYPR to oversee its transition from city-owned agency to an independent nonprofit.
New York Public Radio currently owns and operates eight public radio stations, including WNYC and WQXR, the most-listened-to public radio station and one of the most-listened-to classical stations in America, respectively. NYPR produces influential radio programs and podcasts (including Radiolab, On the Media, and The New Yorker Radio Hour.)
Under her leadership, NYPR has increased its monthly audience from one million to 26 million. Since 2000, NYPR has been honored with ten George Foster Peabody Awards and five Alfred I. DuPont Columbia Awards.
Laura was honored with an Edward R. Murrow Award from the Corporation for Public Broadcasting. In 2009 and again in 2017, she was named by Crain's as one of New York City's 50 Most Powerful Women. Laura began her professional career as a print journalist. She later moved to National Public Radio where she worked as a producer. At Carnegie Hall, she launched the award-winning series, AT&T Presents Carnegie Hall Tonight. She later joined Sesame Workshop as the Vice President of Development. Laura sits on the boards of The Commonwealth Fund, Yale Center for Customer Insights, Tribune Media Company, and the Eagle Picher Trust.
Laura holds an MBA from the Yale School of Management and a BA in History magna cum laude, from Wesleyan University, where she was an Olin Scholar.
About the Jacqueline Kennedy Onassis Medal
The Jacqueline Kennedy Onassis (JKO) Medal is awarded annually to individuals and organizations that have made an extraordinary impact on the quality of New York's built environment. The award was established in 1994 to honor MAS Board Member Mrs. Kennedy Onassis and her passionate efforts to preserve great architecture in New York City. Previous honorees include Kathryn & Kenneth Chenault, Dr. Judith Rodin & David Rockefeller, Jr., of The Rockefeller Foundation, Diane von Furstenberg, Channel 13/PBS, Robert DeNiro, Agnes Gund, Elihu Rose & Wade Thompson, I. M. Pei, Danny & Audrey Meyer, William vanden Heuvel, and Peter L. Malkin & Robert A.M. Stern.
About The Municipal Art Society of New York
For more than 125 years, the Municipal Art Society of New York (MAS) has worked to educate and inspire New Yorkers to engage in the betterment of our city. As a non-profit advocacy organization, MAS mobilizes diverse allies to focus on issues that affect our city from sidewalk to skyline. Our advocacy efforts have led to the creation of the New York City Planning Commission, Public Design Commission, Landmarks Preservation Commission, and the Tribute in Light; the preservation of Grand Central Terminal, the lights of Times Square, and the Garment District; the conservation of more than 50 works of public art; and the founding of such civic organizations as the Public Art Fund, the New York Landmarks Conservancy, P.S. 1, the Historic Districts Council, the Park Avenue Armory Conservancy, and the Waterfront Alliance. Through three core campaign areas, MAS protects New York's legacy spaces, encourages thoughtful planning and urban design, and fosters inclusive neighborhoods across the five boroughs.
Download Press Release
Sign up to stay informed.