2019 Summit for New York City: Fight for Light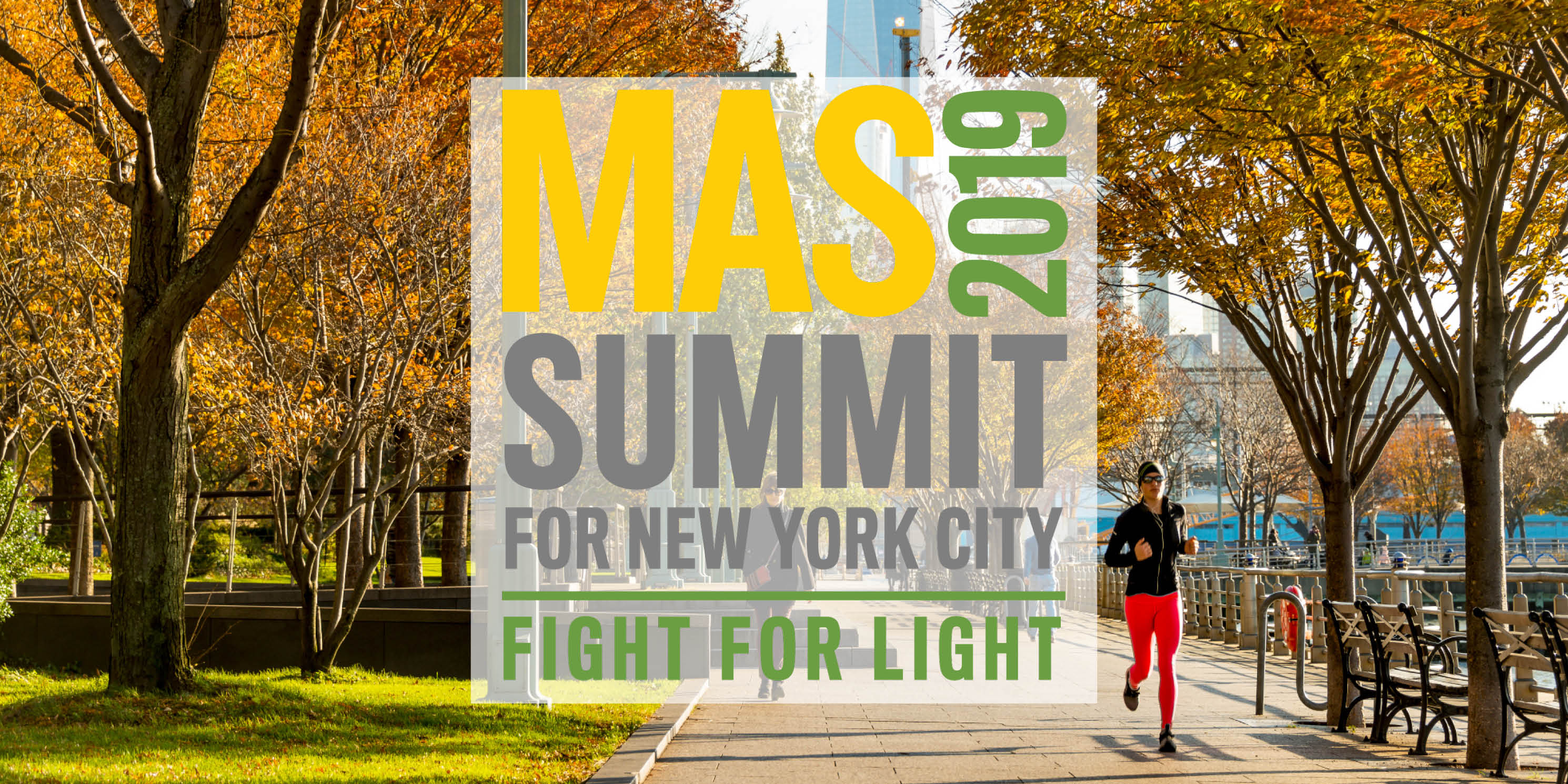 2019 Innovation Exhibition
In line with the 2019 Summit theme, the MAS Urbanist Innovation Exhibition Jury selected seven projects that creatively highlight the importance of protecting the right to light and air as essential for a livable city.
A Space for Being
By Google Design Studio in collaboration with Muuto, Reddymade Architecture and the International Arts + Mind Lab at Johns Hopkins University
At this year's Salone del Mobile Milano, Google presented A Space for Being – an interactive, multi-room installation that explored the field of neuroaesthetics and how different visual experiences have the potential to impact our biology and well-being. Each room varied in lighting, decor, colors, art, imagery, greenery, surfaces, textures, sound, and olfactory to stimulate the visual senses and elicit unique responses.
Bringing Light to Schoolyards: Designing Playgrounds that Shine
By The Trust for Public Land
Having designed and built over 200 green schoolyards across the five boroughs of New York City, The Trust for Public Land (TPL) will highlight the elements in their design process with students and community members that involves light analysis, and the importance of the sun to the school gardens. They will engage the audience in discovering the difference between light-filled spaces and spaces in darkness due to adjacent tall buildings and how that effects their design choices.
Cloud Catchers: Drinking Water Infrastructure
By Lily Consuelo Saporta Tagiuri
Cloud Catchers imagines an alternate method for gathering fresh water from air moisture. Between changing weather patterns, contamination, decaying pipe infrastructures, and growing populations, we are increasingly vulnerable to fresh water shortages. This installation looks to the sky, sun, and wind for solutions, providing a simple, lightweight, and inexpensive method of collecting fresh water from the moisture in the air. Clouds are one of the only free fresh water sources in the world. Accessing water stored in clouds democratizes an increasingly privatized resource.
EXPLORE BIRDS
By Washington Square Park Eco Projects
Birds are an ideal symbol for the importance of light and air in a livable city. New York City sits within one of the American Flyways, which hosts year-round bird species and provides stopover habitat for migratory species. Birds rely on green spaces in the city for habitat and forage, which require access to natural light to thrive. EXPLORE BIRDS is a mobile bird education program. Its mission is to engage New Yorkers in urban bird life and diversity, offering self-directed, hands-on exploration of bird specimens and participatory learning.
InCitu
By DRAW Brooklyn
InCitu lets anyone see any project proposed for their neighborhood on site in augmented reality. It allows users to better understand a project's possible impact on its environment in terms of light, shadow, density, zoning, land use, transportation, infrastructure and socio-economic effects. Most important, InCitu lets users join in the planning of change. Because as Jane Jacobs said, "Cities have the capability of providing something for everybody, only because, and only when, they are created by everybody."
Plaza Life Revisited
By XL Lab at SWA Group and SWA/Balsley
This research project revisited William H. Whyte's Street Life Project to understand changes in public space and public life over 40 years, and how people behave in small urban spaces now. Ten plazas in Manhattan were studied using a machine learning, video, and hand tabulation. The goal was to identify common behavioral patterns to inform future public realm design, such as visitor attraction to sun or shade.
The QueensWay Extends Light and Nature to Queens Neighborhoods
By DLANDstudio, Friends of QueensWay, and The Trust for Public Land
The QueensWay vision is to create public access to an abandoned, 47-acre, 3.5-mile rail corridor that exists in Central Queens. This could be New York City's next great park, providing a safe place for biking and walking in a place that remains designed for cars. The QueensWay will extend Forest Park into densely built neighborhoods, providing access to nature and light (filtered through an already mature canopy of trees that have built up over 60 years) to over 300,000 people who live within a mile.
Urbanist Innovation Exhibition Jury
Marcus Carter, Partner, OBJECT TERRITORIES
Jennette Cheung, Marketing Director, Two Twelve
Matthew Coody, Director of External Affairs, Historic House Trust of New York City
Kate Fisher, Strategist, 3×3
Noam Freshman, Strategist, Siegelvision
Gabo Halili, Urban Planner and Architect
Lauren Peters, Architectural Designer and Historic Preservation Specialist, Walter B. Melvin Architects, LLC
Dominic Ramos-Ruiz, Manager, Market Development, International WELL Building Institute (IWBI)
Katherine Riley, Senior Project Manager for Capital Projects, NYC Parks
Lucy Robson, Director of Research and Policy, New Yorkers for Parks
In-kind & Organizational Support