For the economic, environmental, social, and public health of New York
2019–Present
In early 2019, The Municipal Art Society of New York (MAS) and New Yorkers for Parks (NY4P) joined together to build a broad advocacy campaign called Fight for Light. Fight for Light grew out of our shared concerns about the lack of an effective park shadowing policy for New York City and the rapid growth of out-of-context development. However, it quickly expanded to focus on the role of the public realm in improving the health of New York City residents and addressing the urgent demands for climate change solutions. The imperative of the campaign only grew more apparent as the events of 2020 underscored the role of public space in urban life.
Bright Ideas
Our Bright Ideas report, released at MAS's 2019 Summit for New York City, serves as a primer on the relationship between access to sunlight and public health and offers case studies on the ways that other global cities are preserving this natural resource. We were guided in this work by a task force of national and international experts in architecture, engineering, environmental justice, law, planning, public health, and real estate who helped us shape an exploration of future policy directives.
In the conclusion of Bright Ideas, we laid out a series of recommendations for New York City, including the creation of a Director of the Public Realm, an assessment of sunlight availability, and the development of a social vulnerability analysis.
Sign up to stay informed.
A Public Champion for the Public Realm
In August 2020, we followed up Bright Ideas with a policy brief on that first recommendation. Unlike other large cities such as Paris and Boston, New York City lacks a central position within its government for planning and maintaining the public realm. Instead, the City segments its oversight across a vast array of more than 25 different agencies. Rather than functioning together as a seamless public realm network, the spaces controlled by these various entities are each governed with different rules, competing priorities, and disjointed leadership.
A Public Champion for the Public Realm outlines the responsibilities of a future Director of the Public Realm, the resources they would need to succeed, and the most effective place to house the position within New York City government. The Policy Brief was informed by innovative public realm approaches in cities such as Los Angeles, whose Chief Design Officer, Christopher Hawthorne, works to improve the quality of civic architecture and urban design. Christopher joined MAS for a conversation about the importance of light, air, and open space in urban environments in August 2020.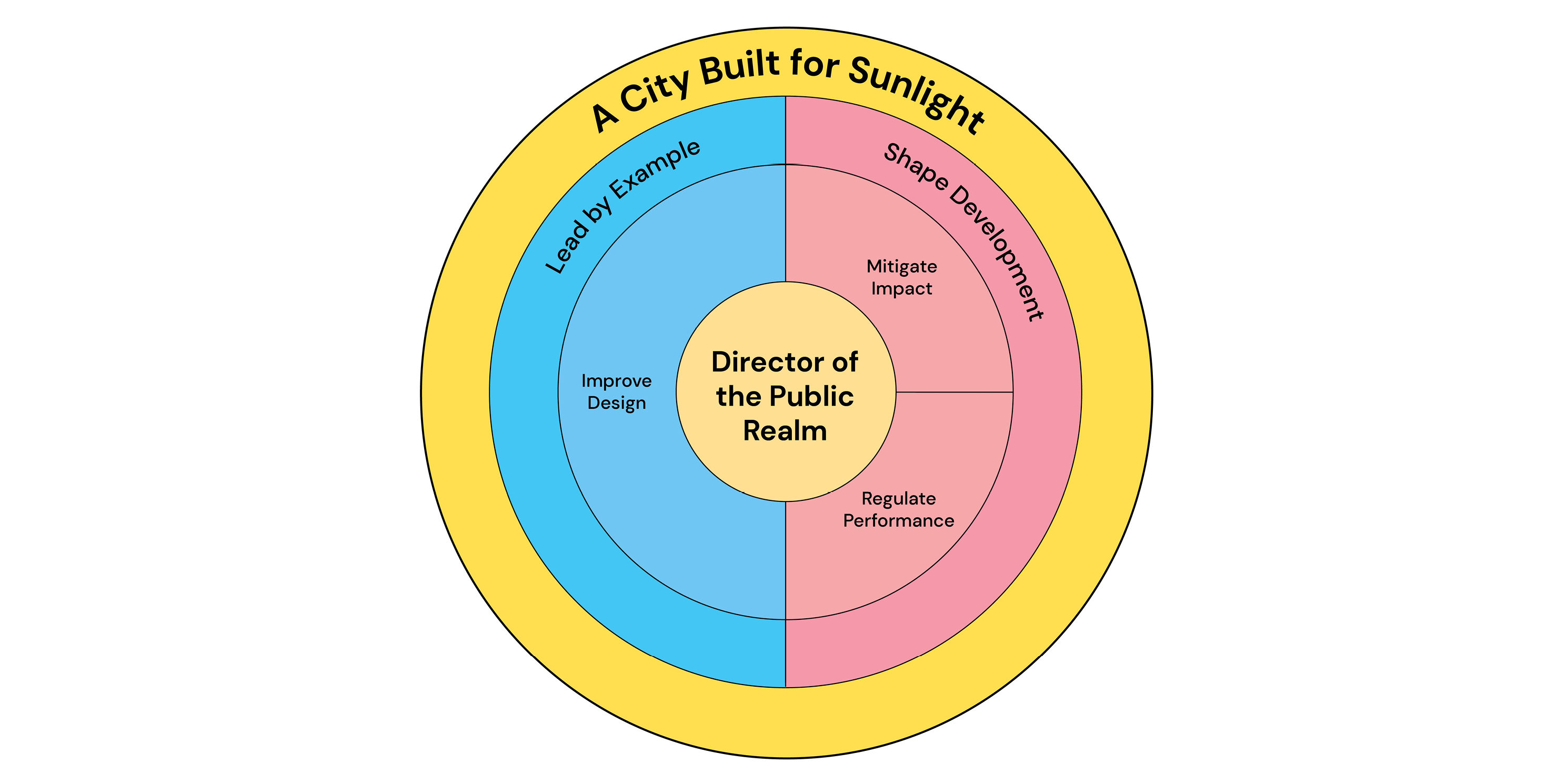 A Framework for a City Built for Sunlight
In April 2021 we released a companion policy brief, A Framework for a City Built for Sunlight, which recommends that New York City do two things. First, it must lead by example through robust building and public realm design guidelines. Second, it must better shape development by regulating for performance and improving the environmental review process. The Public Realm Director would play a key role in helping to achieve these goals.
To inform our recommendations and fulfill the goals set forth in Bright Ideas, MAS asked the global architecture firm, Kohn Pederson Fox (KPF), to examine existing sunlight availability in case study neighborhoods across the five boroughs. MAS was particularly interested in whether and where there is enough sunlight for public spaces to be considered bright, thermally comfortable, and suitable for tree growth.
Their analysis revealed the inherent connection between sunlight, human perceptions of outdoor comfort, and the survivability of plants in the public realm. Public spaces are the conveyors for sunlight in New York City, and their importance is especially apparent in areas that lack sunlight.
MAS also conducted a citywide social vulnerability assessment to identify populations for whom protecting sunlight in the public realm is particularly crucial. To do this, MAS aggregated and scored census tract data for a range of socioeconomic, health, and built environment indicators. This led us to the conclusion that each borough is burdened with great social vulnerability, and that socioeconomic, health, and built environment factors tend to correlate. It will be no surprise to students of the city that the South Bronx and southeast Brooklyn are especially vulnerable.
Taken together, our analyses point to the need for targeted, place-based solutions alongside citywide policies that consider sunlight and public space from a broader health equity perspective. It is particularly important to home in on neighborhoods where there is a lack of sunlight, public spaces are at risk, and social vulnerability persists.
A Blueprint for Public Realm Leadership
In January 2022, MAS released A Blueprint for Public Realm Leadership, an implementation guide that recommends the creation of a new Deputy Mayor for Placemaking and the Public Realm. This position would be dedicated to overseeing the planning, policy, and operations of departments and commissions that shape the city's public spaces. This guidance builds off our 2020 publication, A Public Champion for the Public Realm, to narrow in on the benefits of situating this role within the Mayor's Office, opportunity to improve the City's budget process, and relationship to the development of a citywide public realm plan.
The new position, along with a Public Realm Cabinet and Public Realm Advisory Board, would increase government efficiency, equity, and innovation. To inform our recommendations, MAS hosted a series of conversations as part of our Future of Open Space Series to gather perspectives on pressing challenges and emerging ideas from practitioners and advocates across the city. MAS also conducted interviews with past New York City government staff, business improvement district representatives, and community members who regularly engage with the public realm to gauge the merits of the position and highlight key factors for its success.
The report outlines strategies that the incoming mayoral administration and City Council can take to increase investment and collaboration within the public realm. Public spaces are key to addressing critical issues like public health and safety, physical activity, transportation choices, and sustainability.
Advocacy and Engagement
Fight for Light is building a broad coalition of public realm-oriented partners to reset the framework for how parks, open space, and the public realm might shape a city of the future. Together, our Members and Supporters will help to advance legislative and policy approaches through engagement with elected officials, community members, developers, and other stakeholders. Click here  to find out more about how to get involved.
Why Fight for Light?
Access to sunlight makes people healthier, parks greener, and cities stronger. Sunlight is not a not fringe amenity but a critical element in our urban infrastructure and the social life of the city. We seek it out in the homes we live in and the places where we gather.
The COVID-19 pandemic has underscored the role of sunlight and public space in urban life. Parks, playgrounds, streets and sidewalks have become our living rooms, our gyms, our classrooms, our dining halls, and so much more. Sunlight allows the public realm to be used and programmed throughout much of the year, and a lack of sunlight means that many spaces that thrive in the summer and fall become dormant in the winter.
Yet from Billionaire's Row to Crown Heights, we have seen the current planning process all too often succumb to the enormous development pressures bearing down on our city. And there is a notable absence of attention to sunlight as a pillar of an effective public realm. The result is that some neighborhoods are left in the dark by a planning process that was meant to protect their interests.
Fight for Light gets its start from the Greenacre Foundation's effort to protect Greenacre Park, a historic pocket park on East 51st Street that is filled dawn to dusk with neighbors and office workers enjoying a respite in one of the densest neighborhoods in New York. Situated just outside the Greater East Midtown Rezoning area, this intimate park is expected to be cast completely in shadow during peak summer days as a result of new development. This outcome received little attention during the course of the City's planning process, despite the best efforts of MAS, NY4P, and other peer organizations.
The issue reaches far beyond Midtown Manhattan. In Downtown Brooklyn, Rockwell Place Bears Community Garden, a beloved local green space, will soon find itself cast in shadow by a skyscraper under construction at 80 Flatbush Avenue. In Staten Island, the Bay Street Corridor Rezoning is expected to reduce sunlight on the community's only outdoor recreational facility, a public pool, by 1.5 daily hours during peak summer days.
More recently, a proposed two-tower project at 960 Franklin Avenue in Crown Heights, Brooklyn threatened to cast significant new shadows on the Brooklyn Botanic Garden and nearby Jackie Robinson Playground, two local resources that are vital to a neighborhood where open space is limited and dependent on sunlight for their success and survival. This is despite a 1991 contextual rezoning that was established specifically to preserve neighborhood character and minimize shadow impacts on the Garden. In September 2021, after years of research, modeling, and advocacy by MAS and BBG, the City Planning Commission voted unanimously to reject the application.
Safeguarding light and air is a pragmatic, common sense value in a city as dense as New York, but refocusing our planning process will take no small effort. The success of Fight for Light will depend on a broad coalition of people and organizations from the neighborhood level up representing wide areas of interest and expertise. It will also require a new commitment from our elected officials to invest in and defend New York City's public realm, the spaces between buildings where so much of civic life takes place.
To learn more about Fight for Light, check out our campaign trailer and downloadable poster.
Featured Report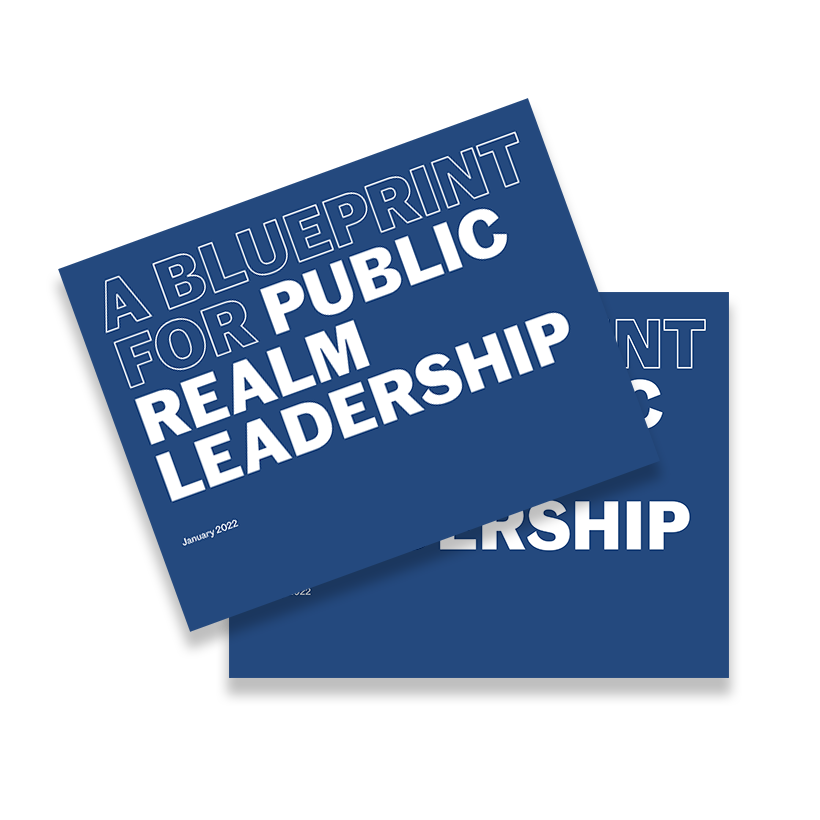 January 2022: Implementation guide for a Deputy Mayor for Placemaking and the Public Realm.
Read report
Advocate with us online
Show your support with #FightforLight
Follow MAS:
Get updates about our work!
Become a Supporter
MAS members and partners are crucial to everything we do. Please consider contributing to MAS and joining our community of advocates.
Support Us