For the economic, environmental, social, and public health of New York
2019-present
In early 2019, The Municipal Art Society of New York (MAS) and New Yorkers for Parks (NY4P) joined together to build a broad advocacy campaign called Fight for Light. We believe that access to sunlight is essential to an equitable, sustainable, and economically vibrant city, and the health and happiness of its residents. Together, we are committed to ensuring that all New Yorkers have access to sunlight within the public realm through protections, incentives, regulations, design quality, and coordinated planning.
Fight for Light gets its start from the Greenacre Foundation's effort to protect Greenacre Park, a historic pocket park on East 51st Street that is filled dawn to dusk with neighbors and office workers enjoying a respite in one of the densest neighborhoods in New York. Situated just outside the Greater East Midtown Rezoning area, this intimate park is expected to be cast completely in shadow during peak summer days as a result of new development. This outcome received little attention during the course of the City's planning process, despite the best efforts of MAS, NY4P, and other peer organizations.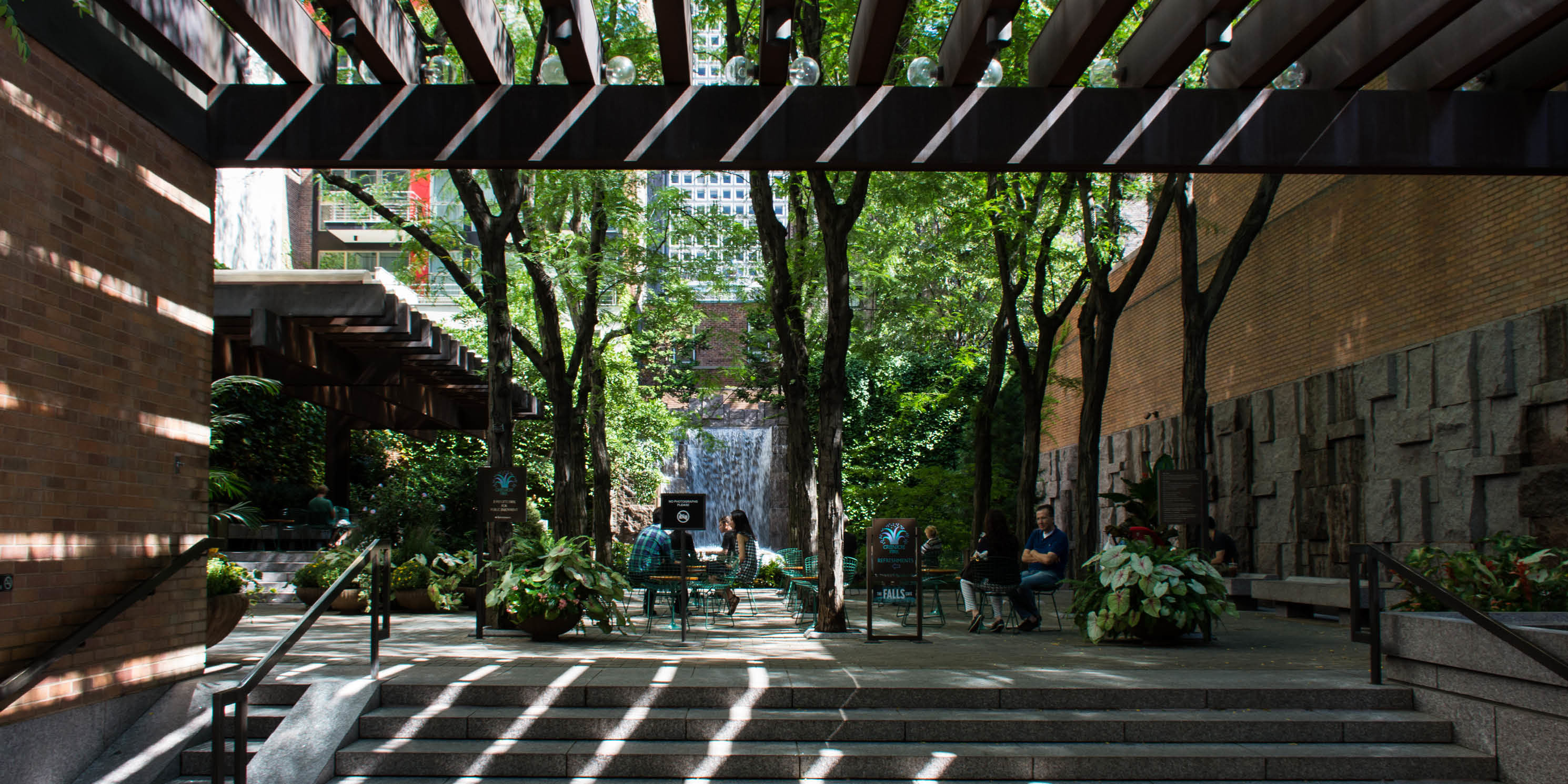 Global Perspectives
Over the past year, the conversation has expanded to include perspectives from around the world, taking into account a variety of areas of focus such as the architecture, engineering, environmental justice, legal, planning, preservation, public health, and real estate professions. The 2019 Summit for New York City brought together experts in the field to discuss these issues and more.
Sign up to stay informed.
Protecting Access to Sunlight
These conversations generated numerous ideas for safeguarding sunlight in urban environments. Some of the most promising examples are from Boston, Los Angeles, Melbourne, Singapore, and Toronto. Together, they suggest that a range of solutions are available to ensure sunlight access across New York City's diverse neighborhoods.
What's Next?
A key outcome of Bright Ideas is our Call to Action, which outlines several immediate steps we're taking to advance Fight for Light:
Advocating for the designation and resourcing of a Director of the Public Realm position within City government.
Conducting a baseline assessment of sunlight availability in New York City.
Identifying places and populations that are vulnerable, and for whom protecting sunlight access is most critical.
Prioritizing policy solutions that protect and enhance sunlight access in the public realm.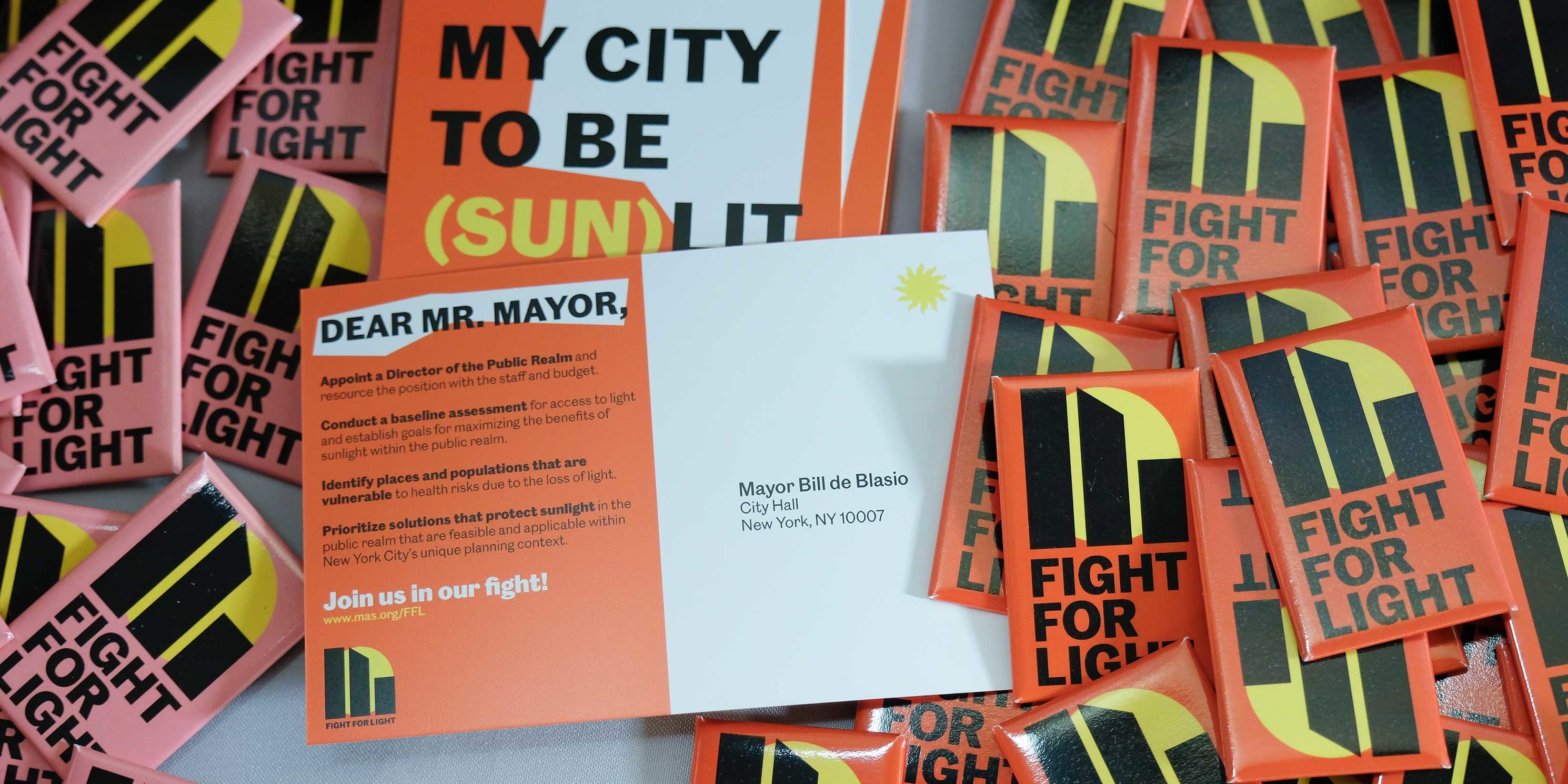 Ultimately, Fight for Light will advance legislative and policy approaches through engagement with elected officials, community boards, developers, and other stakeholders.
To learn more about Fight for Light, check out our downloadable poster.
Advocate with us online
Show your support with #FightforLight
Follow MAS:
Get updates about our work!
Become a Supporter
MAS members and partners are crucial to everything we do. Please consider contributing to MAS and joining our community of advocates.
Support Us
Contact Us
Contact a staff member to learn more or join the campaign. swilliams@mas.org >
Members of the media looking to discuss this project further, contact us at mbaron@mas.org >
Fight for Light Supporters