City Environmental Review Reform
Exploring ways to improve the City's CEQR process
2018–present
MAS has led the charge to improve City Environmental Quality Review (CEQR), New York City's process for disclosing and evaluating impacts of discretionary land use decisions such as neighborhood rezonings and large-scale developments before they can be approved. Our work has included unprecedented retrospective analyses of some of the City's most significant neighborhood rezonings, a citywide exploration of historic development trends to improve CEQR analysis methodology, and the creation of an interactive web mapping tool featuring case studies and spatial visualizations of development patterns in different geographies to help inform communities in the City's land use and planning processes.
Our most recent work has involved the CEQR Reform Coalition, a partnership with Regional Plan Association and New York University Law School's Guarini Center on Environmental, Energy & Land Use Law.
SITE BY SITE (2023)
Site by Site is the CEQR Reform Coalition's latest project. It builds on the Coalition's prior  reform work, including Inclusive City (RPA, 2018), Reforming CEQR (NYU Guarini Center, 2020), MAS' A Tale of Two Rezonings (see below), and the Up to the TASC report. Site by Site assesses the efficacy and reliability of CEQR methodology for identifying sites that have future development potential ("soft sites") in rezonings using historic data that shows what was developed and whether development in certain rezonings has materialized as the City anticipated. This unprecedented retrospective analysis will be accompanied by an interactive webtool including maps that will enable users to learn more about development in New York City and explore soft site development from 2012-2022. The analysis and webtool, which are being completed in partnership with the Spatial Analysis and Visualization Initiative at Pratt Institute (Pratt SAVI), will be published in February 2023. MAS will also hold trainings on how to utilize the webtool through our Livable Neighborhoods Program.
Sign up to stay informed.
TECHNICAL ADVANCEMENT & SUPPORT OF COMPREHENSIVE PLANNING AND CEQR REFORM (2020)
TASC is the first project undertaken by the CEQR Reform Coalition, with support from the New York Community Trust. Outlined in the project's companion report Up to the TASC: Incorporating Data into CEQR and Comprehensive Planning, the Coalition created an index of 45 built environment and social vulnerability factors that affect future development. The factors were incorporated into a framework for a future comprehensive mapping tool that would allow users to formulate future development scenarios at the neighborhood level. TASC also supports our ongoing advocacy on comprehensive planning and strengthening community-led planning.
As part of the Coalition's TASC work, NYU's report Reforming CEQR: Improving Mitigation Under the City Environmental Quality Review Process draws upon existing literature and case studies of several CEQR environmental review documents and lays out broad goals for reforming the City's approach to mitigating impacts resulting from significant land use decisions.
A TALE OF TWO REZONINGS (2018)
The report, A Tale of Two Rezonings: Taking a Harder Look at CEQR exposes the shortcomings of CEQR through the lens of two significant City rezonings, in Long Island City (2001) and Downtown Brooklyn (2004). Through an extensive analysis that compared the development that was anticipated by the City with development that eventually materialized, the report arrives at a simple, but consequential conclusion: although the intention was to create two new central business districts, the expected boom in commercial development never occurred. Instead, these neighborhoods were transformed by an explosion of high-end, high-rise residential development, fueled—unintentionally—by the City's zoning changes.
Demographically, Long Island City and Downtown Brooklyn are now whiter, wealthier, and more crowded than ever. Each neighborhood is hampered by overcrowded schools, insufficient open space, and a lack of affordable housing. The CEQR process can and should do more to fully disclose the  possible outcomes from these actions. A Tale of Two Rezonings also offers several recommendations, including improvements to CEQR's soft site methodology, expanded use of Generic Environmental Impact Statements, and refinements in mitigation that would result in a more reliable and effective environmental review process.
Download "A Tale of Two Rezonings"
Featured Report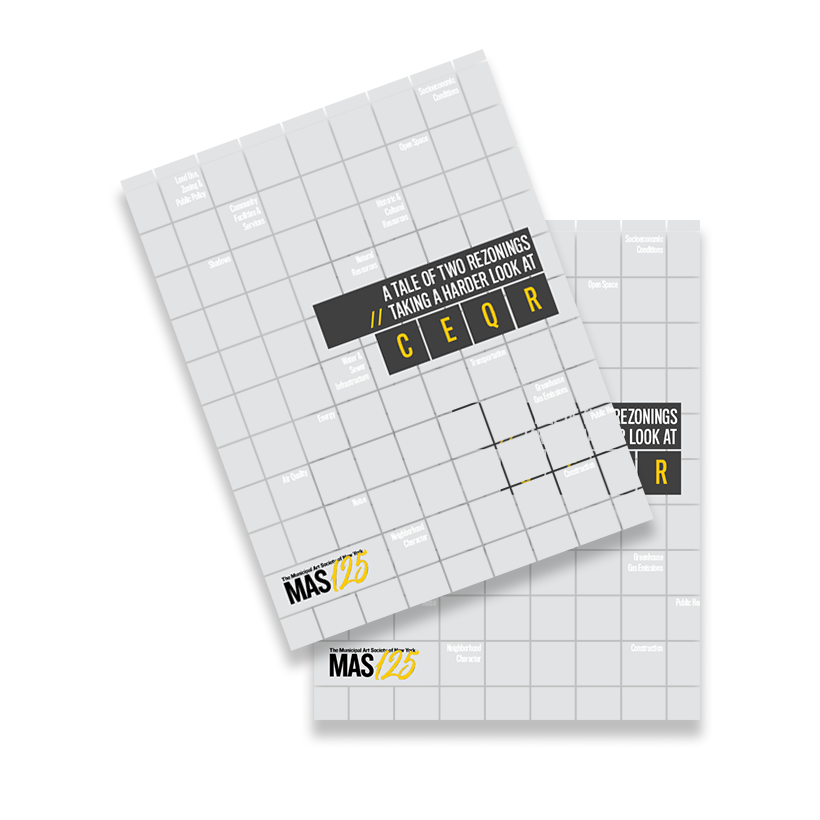 Presents why the City's environmental review process is broken, why that matters, and how the City can do better in the future.
Read report
Advocate with us online
Follow MAS:
Get updates about our work!
Become a Supporter
MAS members and partners are crucial to everything we do. Please consider contributing to MAS and joining our community of advocates.
Support Us
Contact Us
Contact a staff member to learn more or join the campaign. planning@mas.org >
Members of the media looking to discuss this project further, contact us at mbaron@mas.org >